Yani Gellman is an American film and television actor. He has appeared in various films and series, his first being Goosebumps, a television series in 1998.
He plays Officer Garrett Reynolds in the series Pretty Little Liars.
Career
Gellman's acting debut was in a 1998 episode of the
television
series,
Animorphs
. After appearing in several more television productions, he was cast in supporting roles in the 2000 film,
Urban Legends: Final Cut
and in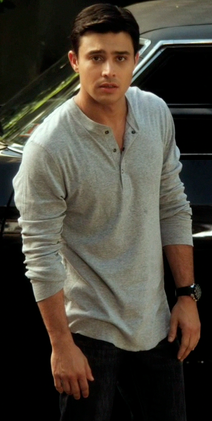 2002's
Jason X
. In both films, his characters eventually became victims of
serial killers
. He appeared in 2002's
The Matthew Shepard Story
as Pablo, the love interest of the title character. Gellman became known among teenage audiences after playing the part of Paolo Valisari, an Italian international pop star, in 2003's
The Lizzie McGuire Movie
.
Most recently, he has been cast in the Canadian series Monster Warriors. He plays a lawyer, Rafe Torres, in the long-running soap opera, The Young and the Restless. 9 years ago, it was revealed that the character of Rafe Torres was gay. Gellman has also appeared as a model in numerous print ads, including Omega watches. He made a cameo in Degrassi Goes Hollywood, as well as playing Pete in multiple episodes of Greek. He has recently played the role of police officer, Garrett Reynolds in hit TV show, Pretty Little Liars. He has also starred in the hit TV show 90210.
Filmography
Film

| Year | Title | Role | Notes |
| --- | --- | --- | --- |
| 2000 | Children of My Heart | Mederic | TV Movie |
| 2000 | Urban Legends: Final Cut | Rob | |
| 2001 | Sex, Lies & Obsession | Romeo | TV Movie |
| 2001 | Boss of Bosses | Young Paul Castellano | TV Movie |
| 2001 | Jason X | Stoney | |
| 2002 | The Matthew Shepard Story | Pablo | TV Movie |
| 2002 | Tru Confessions | Billy | TV Movie |
| 2003 | The Lizzie McGuire Movie | Paolo Valisari | |
| 2009 | Degrassi Goes Hollywood | The Shores Boy | |
Television

| Year | Title | Role | Notes |
| --- | --- | --- | --- |
| 1998 | Goosebumps | Young Man | Two episodes (season 4: episodes: 73 and 74) |
| 1998 | Animorphs | Brad | "The Forgotten" (season 1: episode 13) |
| 2000 | The Famous Jett Jackson | JB Follower | "What You Wish For" (season 2: episode 26) |
| 2001 | Blue Murder | Patrick Lee | "All Saints" (season 1: episode 8) |
| 2002 | Mentors | King Tutankhamen | "Cursed" (season 4: episode 9) |
| 2002 | Guinevere Jones | Michael Medina | Lead Role, 26 episodes |
| 2003-2004 | Wild Card | Ryder | Recurring role, 8 Episodes |
| 2006-2007 | Monster Warriors | Antonio | Lead Role |
| 2007 | Trapped | Carlitos | (TV series documentary) |
| 2008-2011 | The Young and the Restless | Rafael Torres | 86 episodes |
| 2009 | Lincoln Heights | Marco Gutierrez | Two episodes, (season 4: episodes 4 and 5) |
| 2010 | Greek | Pete/Omega Chi | Three episodes (season 3: episodes 13, 14 and 16) |
| 2011-2012 | Pretty Little Liars | Officer Garrett Reynolds | Recurring role, 23 episodes |
| 2012 | 90210 | Diego Flores | 7 episodes |
| 2012 | The Mentalist | Julian Gallego | "Devil's Cherry" (season 5: episode 2) |
| 2012 | Beauty & the Beast | Sam | "All In" (season 1: episode 3) |
| 2013 | Criminal Minds | Mitchell Ruiz | "Broken" (season 8: episode 15) |
| 2014 | Castle | Manny Castro | "Law & Boarder" (season 6: episode 21) |