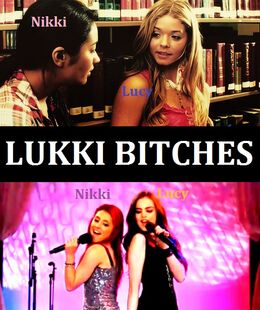 My besto on here, Nikki your AWESOME honey!
"Nikki, my Emily, my Santana, my Cat!" - Pucktana88Edit
"Got a secret can you keep it? Swear this one you'll save, better lock it in your pocket, taking this one to the grave!"Edit
10 things PLL has taught me
Edit
Friends share secrets. It's what keeps them close
Not everything is as it seems
Even the most angelic people lie
Stick with friends
Keep your secrets (as much as number one look at the consequences)
Accept people for who they are
People can change for the worst
A pretend life doesn't get anyone anywhere
Not everyone has a really hi-tech phone love how they're phones are modern but not too expensive *says as glances at own hTc*
Never trust a pretty girl with an ugly secret
If I was in PLL...
Edit
I even wrote a fanfic, (I'll post the link when it's finished).
Alison, I love ya! <3
Edit
Lucy
General Information

Gender:

Female

Hair Color:

Blonde

Eye Color:

Blue

Birthday:

Eighth of October

Occupation(s):

JLSster, student, fashion designer

Nickname:

Lucy boo

Lucy lou

Romances:

Aston Merrygold (love of my life)

Jay McGuiness

Zayn Malik

Series Information

Education:

Rosewood High
Series Information

Portrayed By:

Me Pucktana88
Alison is a bit of a role model to me. In my opinion, she is the most pretty, amazing and interseting character on the show!
Edit
"Team Alison, cause I cant get enough of her funny bitchiness!" - Pucktana88Edit
"I'm still here bitches and I know everything!!" - AEdit
"Keep that in a safe place, it's alot more valuable than it looks," - AlisonEdit
"Stay true to who you are, alot of your confidence comes from there!" - Sasha PieterseEdit