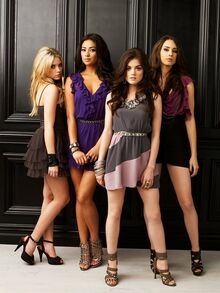 This is your user page. Please edit this page to tell the community about yourself!
About Me

♔

Edit
Hey there Pretty Little Liars fan reading my profile! My name is Cedelle, I'm 18 and I'm unhealthily addicted to this television program :)
Click Here! to follow me on twitter :) I follow back 🐤
My Faves

♔

Edit
My Theories

♔

Edit
Feel free to agree or disagree, I don't usually change my theories, but I'll consider any and every angle.
After watching The Lady Killer, I believe that Nate and Paige have an alliance Click Me!
Alison and Maya's killer are the same person
Nate/Lyndon did (judge me as you wish) NOT kill Maya. Think Ian and Alison, do you really think he killed her and the story is that simple?
In Crazy, we may have to interpret what Mona said as more than the code

Ms Aria You're A Killer Not Ezra's Wife - Is Ezra married? Is Aria a homewrecker?
No One To Save Ali From Evil
Where Were We? Maya's Away Sleeping Sweet Until Garrett's All Rosy Count On Me - I don't know what being "rosy" really means, but if its a colloquialism for being ready for something. Mona did want Garrett out of jail. Why? We don't know
(Please Wait), I Missed My Dolls - Mona looked at the closet where Hanna and Aria were hiding. Could be she's referring to them as dolls and she misses playing with them with all the A texts?

Maya is dead, Alison (or Courtney if that storyline will exist) isn't dead
Whoever has the body bag (I don't know if there is actually a body there) wants it to be found. Why else would they be dropping trinkets from inside the casket?
I do not know how long Toby has been involved in the A team. It's very possible he is sinister and has been in the know for a REALLY long time. It hurts, I'm Team Spoby, but that's what keeps this show amazing.
I think that there are two different A teams that were once united as one and after Ian and Spencer in the bell tower went awry. Spencer didn't die as she was supposed to and someone pushed Ian instead. In the first season, everything A related was very organized and neat up until this point. A always had a plan, was always one step ahead. Season two, A became a little more complex. Now A doesn't make a damn sense. Because of this. I think the two teams are fighting/clashing right now.
The End

♔

Edit