I luvvvv pretty little liars,and i never miss a episode!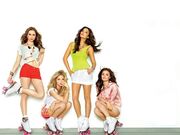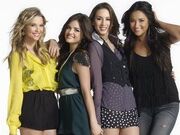 My favorite pages
Edit
Add links to your favorite pages on the wiki here!
Favorite page #2
Favorite page #3

The Liars
1.Hanna Marin-She is my favorite character for soooo many resons.But most of all is for her personality.she has great humor and is a great friend.I loved it when she went to talk to ezra at his office and tried to talk to toby at school.She always makes me laugh and her realashionship with caleb is amazing,they both have a bond that cant be discribed.And I luvvvvvvv her style,she can be girly and at the same time classy and edgey and not taking it too far.Also she can take sooo many risk with her fashion and is always having the it girl style.
2.Spencer Hastings-Spencer is soooo different from all the girls,in a good way.she is for me the leader of the group and she to me is equally close to all the girls.she is the one to always step up and put the broken pices together.Her style is very classic with a twist and can have a preppy look one day and a marc jacobs the next.she to me is very original.she has lots of things in her life just as the other girls and is not very close to her family.But thoose are the things that make her strong and hard to knock down.
3.Alison Delarentis-I think lots of people miss understand alison for many ways.she can be shady at some points and a friend the next.she had a very different relashionship with all the girls.she was closest to emily because she fely like she could tell her anything and emily was the girl who always had ali's back.ali is a very unique person and i think others think and see her as a rude person but people dont always know what were going on in other parts of her life they only know some things about her.
4.Emily Fields-To me emily is the sweetiest of the group of girls.just because she likes girls doesnt make her different and it didnt make her relashionship with the girls different it just made it stronger,like they could share everything to each other.Its not like you can look at all the girls and point to her and say she is a lesbian.her style has grown alot.In season1 she was very sporty and in season2 she has grown to dress like a normal teen and i feel like she took a bit from each girl and made it her own.
5.Aria Mountgumery-Aria is the most edgey girl.for her privite life she is very mature and at the same time she can be a teen at curtain points.Her style can blow you away,she puts things together that have you thinking how she did it and how she makes it work.she can put her personaliy in her style.Also i think she is closer to her parents than all the other girls even though she doesnt tell them about ezra intell later on.