"
The streets of Rosewood will always feel like home. I will hold each of these girls close to my heart always, as I will Emily. She changed me as a person and I will never be able to say thank you enough.
"

— Shay Mitchell
Shay Mitchell, born Shannon Ashley Mitchell on April 10, 1987, is a Canadian actress and model. She is best known for her role as Emily Fields on Pretty Little Liars.
Life and Career
Born to a Filipino mother, Precious, and Irish/Scottish father Mark, Mitchell is a native of Mississauga, Ontario, Canada. She has a younger brother named Sean.
Even as a young child, Mitchell was interested in the performing arts, declaring to her parents that she would pursue such a career. Mitchell began dance lessons at the age of five, and she and several of her classmates toured the city to compete with a variety of other dance schools.
At the age of 10, Mitchell's family moved west to Vancouver, British Columbia. Within a year of their arrival, an international modeling agency held an open casting call for teen and pre-teen girls who were vying for representation. Mitchell was one of the girls selected.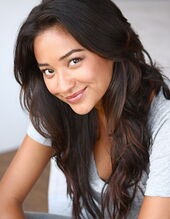 By her late teens, Mitchell had successfully modeled for a variety of companies in cities as varied as Bangkok, Hong Kong and Barcelona. Wanting to focus on her true passion, Mitchell returned to Toronto and began to study acting with great focus and determination. Her hard work paid off and, after signing with her first theatrical agency, Mitchell appeared in the hit series Degrassi: The Next Generation and booked several national commercials. Mitchell also landed a recurring role in the Disney XD series "Aaron Stone". Mitchell guest starred in the Global series Rookie Blue and appeared in the music video for "Hold My Hand" by Jamaican rapper Sean Paul.
In December 2009, Mitchell was cast as
Emily Fields
in the ABC Family television series
Pretty Little Liars
. She had originally auditioned for the role of
Spencer Hastings
, which ended up going to
Troian Bellisario
. The series follows the lives of four girls whose clique falls apart after the disappearance of their leader,
Alison DiLaurentis
. One year later, the estranged friends are reunited as they begin receiving messages from a mysterious figure named "A", who threatens to expose their deepest secrets, including ones they thought only Alison knew.
In January 2011, Mitchell became a spokesperson for the Pantene Nature Fusion shampoo line.
In 2012, Shay became the new face of American Eagle, and in 2013 she became a mentor for the ACUVUE 1-Day Challenge. In 2017, Shay became the face of and spokesperson for Bioré. In the same year, she launched her YouTube channel which currently has over two-million subscribers. She also started a production company called Amore & Vita Inc. with her manager, David Dean Portelli, and has signed a contract with Warner Bros. Television Group.
In late 2017, Shay was announced to have signed onto another TV series titled, "The Heiresses", which follows the lives of the Saybrook family. She was also cast as Peach Salinger, a main character on the Lifetime series, "You".
Filmography
Awards
Trivia
Is of Filipino, Irish, and Scottish descent.
Favorite books: Eat, Pray, Love, The Alchemist, The Kite Runner, and Pretty Little Liars.
Favorite food: Anything Italian, Thai food, mother's cooking, and Sriracha Hot Sauce.
Favorite TV shows: Entourage, Californication, and Oprah.
Favorite vacation place: Italy.
Favorite movies: Vicki Christina Barcelona, Under the Tuscan Sun, and Little Mermaid.
Top favorite movie: Selena.
Celebrity crushes: Paul Walker and Ryan Gosling.
Is afraid of clowns and horror movies.

Is acting in her first Horror Movie Cadaver, which is set to premiere in 2017.

Double jointed.
Enjoys guided meditation.
Watches Glee and is friends with Glee stars Naya Rivera and Jacob Artist.
She loves the TV show Gossip Girl, and was in love with it when it first came out. She also enjoyed The Vampire Diaries.
Shares the same birthday with Ryan Merriman who played Ian Thomas in Pretty Little Liars
Is best friends with Ashley Benson in real life.
Runs a blog, Amore and Vita, with her best friend Michaela.
Is a supporter and sponsor of the Somaly Mam Foundation.
The girls called her the social media butterfly being the most active and one of the most followed liars on social media
She is very active on YouTube, and tries to post every Tuesday.
She was working as a waitress doing bottle-service when she auditioned for PLL.

She practiced her lines for Emily in the coat-check room of the bar she was working at.
She recorded her audition tape in the basement of agency building, and begged the secretary at the desk to film her and do the lines with her.

She found out she had the role of Emily Fields while she was in a universal studios hotel room - the Sheridan - sitting at a desk. David and Robin, her agents, called her and told her the news. She was so excited that she starting screaming, "oh my god!" and spinning around on the swivel-chair.
She received braces after sending in her audition tape.
Her travel-show Shaycation was originally on a major network, but she later moved it to YouTube and made it a series on her channel, due to her busy lifestyle and schedule.