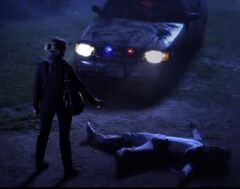 This article revolves around the death of
Darren Wilden
. This occurred during the episode "
A DAngerous GAme
" (offscreen). His body was found in "
'A' is for A-l-i-v-e
."
Before
He was involved in a hit and run with Ashley Marin, and Jenna and Shana pulled him away.
Day of Death
Wilden presumably hit Toby on the head and threw a lighter at him to frame him for the fire.
Melissa ordered Shana and Jenna to watch the girls.
Wilden was at a lake with a woman wearing high heels. Ashley revealed that she was the one who met with Wilden and that they had an argument.
Travis Hobbs reveals that after their argument, Ashley left Wilden and got in her car. He heard a gunshot, and saw an unknown girl run through the woods. The murder took place near Travis's parents' lake house.
After
Wilden's body is discovered Rosewood police.
Charlotte has Sara Harvey, as The Black Widow, attend his funeral to make sure Wilden is dead.
Murderer