Sara Shepard
is an American author known for her bestselling
Pretty Little Liars
series of young-adult novels.
Shepard graduated from Downingtown West High School in Downingtown, Pennsylvania in 1995, and got her undergraduate degree from New York University. She later received an MFA from Brooklyn College and now lives outside Philadelphia, Pennsylvania with her husband and dogs. Sara's other series is The Lying Game.
Appearance
Edit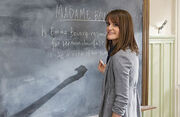 Sara has a brief cameo in "
The Homecoming Hangover
" as
Mr. Fitz's substitute English teacher
while
he
was in New York.