Roberto Aguire, is an American film and television actor and producer born June 9, 1988. His first major film role was playing character Emillio in the 2012 film Struck by Lightning. He then went on to play a troubled street hustler Leo in the 2014 film Boulevard opposite Robin Williams.
He portrays Liam Greene in Pretty Little Liars.
Life and career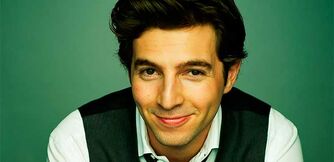 Roberto was born in Mexico City to his Mexican parents. He was then subsequently raised in Switzerland before going on to study at New York University's Tish School of the Arts. As of 2013, Roberto resides in Los Angeles.
His acting career started with his appearance in TV movie Sand Sharks in 2012 and in movie Struck by Lightning playing the role of Emilio. 
Roberto was then fortunate to star opposite Robin Williams in his role of Leo in the 2014 movie Boulevard, which centers upon a married man whose perception of the world changed when he meets a young man (Roberto's character Leo)
Also in 2014 Roberto went on to appear in a short movie Sweethearts and TV Movie The Emperors as Ernie and Terry, respectively, as well as a short role on NCIS: New Orleans as Orion.
In 2016, Roberto appeared in the sixth and seventh seasons of Pretty Little Liars.
Filmography
| Year | Title | Role | Notes |
| --- | --- | --- | --- |
| 2012 | Sand Sharks | Rex | TV Movie |
| 2012 | Struck by Lightning | Emilio | Film |
| 2012 | 5A | Roberto | Short Film |
| 2012 | Encountered | Ricky | Short Film |
| 2013 | After Darkness | Fred Beaty | Film |
| 2013 | Redemption | Cop 1 | Film |
| 2014 | Boulevard  | Leo | Film |
| 2014 | The Emperors | Terry | TV Movie |
| 2014 | Sweethearts | Ernie  | Short Film |
| 2014-2015 | NCIS: New Orleans | Orion | 2 Episodes |
| 2015 | The Morning After | Diago | Film |
| 2016 | Pretty Little Liars | Liam Greene | 5 Episodes |
Trivia 
Roberto had been rumored to be dating Emma Watson but the pair have stated that they are simply 'Best Friends'
Emma Watson and Roberto met on the set of Harry Potter and the Goblet of Fire, where he was interned in the special effects department.
His charter in Boulevard was written to be much skinnier than Roberto is in real life. He set out to lose 30 pounds for the role, but ultimately lost 35.
His Height is 5' 11" (1.8 m)
Gallery: