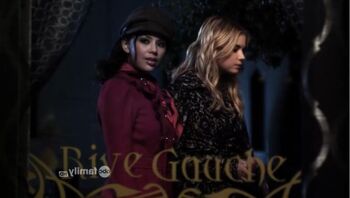 Rive Gauche is a fancy French restaurant in Rosewood. In the books it is located in the King James Mall and many Rosewood Day students hang out there on a regular basis after school.
Mona wants to dine here with Hanna for lunch on her birthday in "Keep Your Friends Close."
Hanna and Mona spot Noel talking to Jenna just after he broke up with Mona in "The Blond Leading the Blind."
Book Series
Edit
Rive Gauche is located in the local King James Mall and is a favorite hangout for many Rosewood Day students. It is described as "a terraced French-inspired café" and is also popular for giving underage visitors alcohol. Red wine is the choice of many of its teen visitors. Hanna Marin and Mona Vanderwaal hung out there often, as did their rivals Naomi and Riley. Lucas Beattie works part-time at the café, so Hanna avoided the place for a while after they broke up.