"
She's everywhere and she's nowhere.
"
"
I'm sure as hell I'm not going back to Rosewood.
"
Red Coat was an anonymous character that was first introduced on the finale of Season 2, "UnmAsked", and is the former disguise of Big A. She started a partnership with Mona Vanderwaal, the Original "A", but eventually overtook it from her in the third season. She appears to have been the one who started The A-Team, and is presumably Big A, the leader. The Liars do not learn of her existence until the end of Season 3, when Emily remembers a blond female in a red coat at Alison's grave "That Night". Her red coat is destroyed in the fire due to The Incident at Thornhill Lodge, and she reincarnated into her new disguise as The Black Widow in Season 4. She was seemingly gone for the rest of Season 4, but returned in Season 5 working probably alone. The Liars have seen her once, without knowing she is "A".
In "Now You See Me, Now You Don't", it is revealed that Alison DiLaurentis is also a Red Coat but is not the bad one out to get the girls. Alison used the disguise to remain hidden while lurking in Rosewood. CeCe Drake also used this disguise once to help Alison distract "A".
Physical Appearance
Red Coat is shown to be a female in a red trench coat (wearing the hood on), black long sleeved blouse underneath, black leggings (sometimes blue jeans), black gloves, and black pistol boots. She also sometimes is shown sporting red nail polish. Red Coat is always seen with long, wavy, golden blonde hair, which may be her real hair or it may be a wig.
CeCe wore an "Alison" Mask, to distract "A". The "A" Red Coat also wears the Ali mask. Big A's red trench coat is throught to have been destroyed in "A DAngerous GAme", but it was used again in "Under The Gun", therefore it is hard to assume if the costume still exists.
Series
Appearances (15/95)
| | | |
| --- | --- | --- |
| Season 2 (1/25) | Season 3 (7/24) | Season 4 (7/24)        |
Identities  
Red Coat was the leader of the A-Team's former disguise. She is the person who stole the game from Mona (Original "A" who worked alone in Seasons 1-2) in Season 3, and is known off-show as Big A. The A-Team members don't even know the real identity of Red Coat. She was originally thought to be CeCe Drake, but this was disproved (see below).  
It's also possible she has brown hair instead of blonde, because in "Under The Gun", Red Coat is shown in the Emily mask with brown hair, and in "The Mirror Has Three Faces", Red Coat's hair looks fake. Her red coat was found burned up in "'A' is for A-l-i-v-e" due to The Incident at Thornhill Lodge. We assume she then takes on her new disguise as The Black Widow (unconfirmed if they are the same person; if not, Red Coat has seemingly gone missing) where she attends Darren Wilden's funeral, wearing her signature Black Veil. It's shown at the end of the episode she was wearing a burned up Alison mask, meaning she was at the fire. Also, it was shown many times Red Coat has an obsession with Alison.  
Red Coat, reincarnated as The Black Widow, is the main antagonist for Season 5.
In "Now You See Me, Now You Don't", the girls go to Ravenswood and see that there were two Red Coats. Spencer follows one of the Red Coats, who she thinks is Ali (the "good" Red Coat) because she appears to be helping The Liars, and she leads Spencer to what seems like A's main lair (but is actually Ezra's lair). Spencer shows The Liars the lair and a female eye is seen watching the girls through the wall, presumably Alison. After the girls leave the lair, they run into Carla Grunwald, who tells the girls she saved Alison's life the night she went missing, proving Alison is alive.
Therefore, Red Coat #2 is confirmed to be Alison in "Grave New World". She claims that someone is after her, and she cannot come home. In Season 5, Mona claims she has proof that Ali is A, assuming she was the "bad" Red Coat all this time. Later, the girls find out it was all a set-up against Alison.
In "Now You See Me, Now You Don't", it's revealed CeCe is one of the Red Coats (known as the "bad" Red Coat until Season 5). Aria fights CeCe, and CeCe falls over the railing, but Aria hangs on to her. However, CeCe's sleeve rips and she falls. The girls run to her, and assume she is dead. When they turn around, CeCe's body is gone, meaning she escaped and is alive. Spencer then tells the girls she was chasing another Red Coat, who she believes is Alison.
In "EscApe From New York", Alison confirmed that CeCe wasn't on the A-Team and she dressed as Red Coat, at Alison's request, to distract A in Ravenswood.
Notes
Red Coat has three identities:
Jenna Marshall was seen wearing black gloves and what appeared to look like a red jacket, while driving Emily during "That Night". It was never mentioned again, so it probably wasn't the real red coat.
There's a distinct possibility that Red Coat doesn't exist anymore. The red coat was destroyed in "A DAngerous GAme", and Red Coat took on her new disguise (or this is what fans assume) as The Black Widow. If these two are not the same person, Red Coat has seemingly gone missing. It is more likely that she is Black Widow now. However this has never been confirmed.
Hanna dressed as Red Coat once to trick Spencer; it was a plan made to see if Spencer was truely on The A-Team.
Alison and CeCe don't use the red coat disguise anymore.
The Liars wear red coats on the Season 4's promotional poster.
It is unknown who is who at which time but here are a few speculations:

Alison pulled Hanna out of the fire in "A DAngerous GAme" and the "A" Red Coat got off the plane and went through the woods. It is unknown if she pulled the other three out, though it isn't likely because she was presumably somewhere in the woods and she hates the liars. Her only motive of saving the girls is that if they are dead she can't torture them. 
The fact that, if Red Coat pulled the girls from the fire, she left Hanna to die. This suggests Red Coat is a person who has a grudge against Hanna more than the other girls.
Alison stopped the saw mill in "Now You See Me, Now You Don't" and CeCe was there to distract "A".
The "A" Red Coat presumably was the Red Coat living under the DiLaurentis house.
Gallery
Media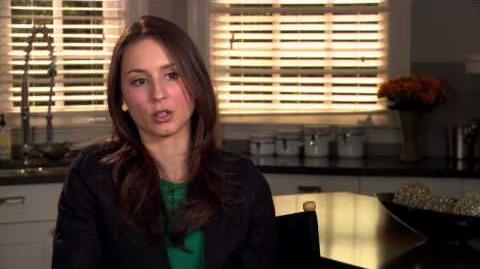 v - e - d
Characters
To Make An Appearance
Kimberly Brown