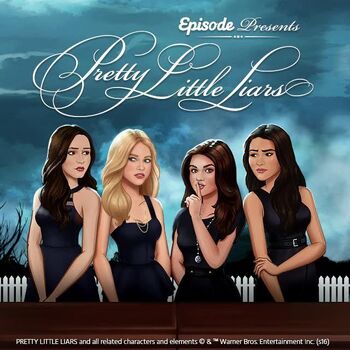 Pretty Little Liars is a Mystery/Drama story available on the Episode Interactive: Choose Your Story app, with 12 chapters in total. It centers on four girls—Aria Montgomery, Emily Fields, Hanna Marin and Spencer Hastings, and additionally you as the main character. After their clique leader and best friend Alison DiLaurentis disappears in mysterious circumstances, they begin receiving anonymous text messages from someone named "A", whom claims to know all of their deepest and darkest secrets.
It is based upon the Freeform TV series Pretty Little Liars, which itself is based upon a series of books written by Sara Shepard. This version of Pretty Little Liars follows different story arcs than those on the TV series and in the books. It is followed by Pretty Little Liars: To Die For.
Ad blocker interference detected!
Wikia is a free-to-use site that makes money from advertising. We have a modified experience for viewers using ad blockers

Wikia is not accessible if you've made further modifications. Remove the custom ad blocker rule(s) and the page will load as expected.