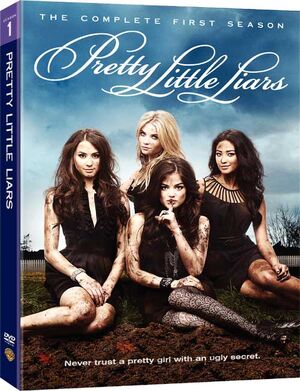 Pretty Little Liars: The Complete First Season
was released on June 7, 2011. It includes all 22 episodes of the
first season
 and  bonus features which include:
Pretty Little Liars: Two Truths and a Lie - Discover some fun facts and fictional fallacies about the cast of Pretty Little Liars
It All Started with a Little Lie: Making Pretty Little Liars - Discover how the pages and characters of Sara Shepard's novel became this can't miss TV series
Little Secrets from the Set - Catch up with the cast and crew of summer's hottest show as they bring us several juicy behind-the-scenes secrets from the Pretty Little Liars set
Deleted Scenes
Two Truths and a Lie (Bonus Feature)
Deleted Scenes (Bonus Feature)
Ad blocker interference detected!
Wikia is a free-to-use site that makes money from advertising. We have a modified experience for viewers using ad blockers

Wikia is not accessible if you've made further modifications. Remove the custom ad blocker rule(s) and the page will load as expected.