Mr. Sheldrake is the AP Russian History teacher who submits Spencer's essay which she stole from Melissa to the Golden Orchid essay competition. He calls up Mr. Hastings to personally inform him when the essay wins the award and congratulates Spencer in the school hallways. 
He approaches Spencer while she's with Aria, Emily & Hanna to tell her that she did an excellent on her essay and that he's submitting it to The Golden Orchid.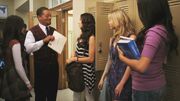 He approaches Spencer again telling her that his instincts were right and that she won the competition. He congratulates her then leaves.
Appearances (2/140)
Season 1 (2/22)
Gallery
Ad blocker interference detected!
Wikia is a free-to-use site that makes money from advertising. We have a modified experience for viewers using ad blockers

Wikia is not accessible if you've made further modifications. Remove the custom ad blocker rule(s) and the page will load as expected.