Mona Vanderwaal uses an iPhone 6S in a black case.
Motorola Bravo
Before series started, Mona used a Motorola Bravo, which she gave to Hanna.
Blackberry Pearl 8100
Mona used a pink Blackberry Pearl 8100 from Season 1 to Season 2.
iPhone 4S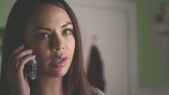 From Season 3 to Season 5, Mona used a black iPhone 4S in a flower case. However in Season 6, her iPhone case was in green leaf patterns.
iPhone 6S
In the Preview of Tick-Tock, Bitches, Mona is seen holding an iPhone 6S in a black case.
Ad blocker interference detected!
Wikia is a free-to-use site that makes money from advertising. We have a modified experience for viewers using ad blockers

Wikia is not accessible if you've made further modifications. Remove the custom ad blocker rule(s) and the page will load as expected.