Mona Vanderwaal uses an iPhone 6S in a black case.
Motorola Bravo
Before series started, Mona used a Motorola Bravo, which she gave to Hanna .
Blackberry Pearl 8100

Mona used a pink Blackberry Pearl 8100 from Season 1 to Season 2.
iPhone 4S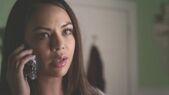 From Season 3 to Season 5, Mona used a black iPhone 4S in a flower case. However in Season 6, her iPhone case was in green leaf patterns.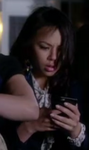 iPhone 6S
In the Preview of Tick-Tock, Bitches, Mona is seen holding an iPhone 6S in a black case.