Home
Talk

5
845pages on
this wiki

This is a community website dedicated to the ABC Family TV Series
Pretty Little Liars,
as well as
Sara Shepard
's "Pretty Little Liars" book
series - on which the TV series is based. Anyone may edit articles or create
new ones, and in this way we can all work together to build this wiki into
a community site that everyone can enjoy.
About Pretty Little Liars
Pretty Little Liars is a series of young adult novels by Sara Shepard and a TV series on ABC Family. The series follows the lives of four teenage girls — Aria Montgomery, Emily Fields, Hanna Marin, and Spencer Hastings — whose clique falls apart after the disappearance of their leader, Alison DiLaurentis. Three years later, after the discovery of Ali's body, they begin receiving text messages from an anonymous source, "A," who threatens to expose their secrets — including long-hidden ones they thought only their close friend Alison knew. Pretty Little Liars is currently on Season 4 and has a new Liar Mona Vanderwaal.
Characters
Seasons
Books

Get the My Wikia App!
With Wikia's official flagship app, My Wikia, you can search for communities and add them to your home screen and read constantly evolving, deep content in a customizable format.
DOWNLOAD NOW FOR FREE!

AFFILIATES
Click to go to Ravenswood Wiki
Click to go to Star Crossed Wiki
Click to go to Reign Wiki
Click to go to Witches of East End Wiki
Click to go to CBS's Stalker Wiki
Click to go to the About a Boy Wiki
Featured Article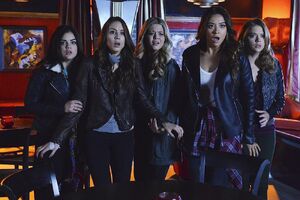 A is for Answers
For years we have watched the Liars try to unravel the disappearance of their BFF, Alison DiLaurentis. Yet season after season, the girls were left with more questions than they had answers. Tuesday, March 18th, that will all change! Be sure to catch the finale "A is For Answers" for an episode of reveals. Who tried to kill Alison? Who was buried in Alison's place? Who pushed Ian off the Bell Tower? Get all the answers and more in the sure to be epic season finale! Find out what happened that fateful night through Ali's point of view.
Read more...
Next Novel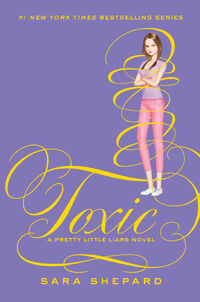 Toxic
Toxic is the 15th book in the Pretty Little Liars, written by Sara Shepard. High school is over for Rosewood's four prettiest liars . . . but A's reign of terror isn't. In their last summer in Rosewood before college, Hanna, Emily, Aria, and Spencer must pick up the pieces of their shattered lives. Thanks to A, they've lost everything: their college acceptances, their boyfriends and girlfriends, and in Emily's case, even her family.
But for the first time ever the girls know who A is, and that A is finally working alone. It's four against one, meaning the odds are in their favor. They're going to end this toxic cycle once and for all.
If only it was that easy. A has been watching these girls for years and knows them better than they know themselves. Whatever A wants, A gets, and A isn't ready for the game for be over.
Read more...
Next Episode
Run Ali, Run!
In The News
Loading RSS data...
Loading RSS data...
Loading RSS data...
Refresh
·
Read more...