Home
Talk

12
882pages on
this wiki

This is a community website dedicated to the ABC Family TV Series
Pretty Little Liars,
as well as
Sara Shepard
's "Pretty Little Liars" book
series - on which the TV series is based. Anyone may edit articles or create
new ones, and in this way we can all work together to build this wiki into
a community site that everyone can enjoy.
About Pretty Little Liars
Pretty Little Liars is a series of young adult novels by Sara Shepard and a TV series on ABC Family. The series follows the lives of four teenage girls — Aria Montgomery, Emily Fields, Hanna Marin, and Spencer Hastings — whose clique falls apart after the disappearance of their leader, Alison DiLaurentis. Three years later, after the discovery of Ali's body, they begin receiving text messages from an anonymous source, "A," who threatens to expose their secrets — including long-hidden ones they thought only their close friend Alison knew. Pretty Little Liars is currently on Season 5.
Characters
Seasons
Books

Get the My Wikia App!
With Wikia's official flagship app, My Wikia, you can search for communities and add them to your home screen and read constantly evolving, deep content in a customizable format.
DOWNLOAD NOW FOR FREE!

AFFILIATES
Click to go to Ravenswood Wiki
Click to go to Star Crossed Wiki
Click to go to Reign Wiki
Click to go to Witches of East End Wiki
Click to go to CBS's Stalker Wiki
Click to go to the About a Boy Wiki
Click to go to Selena's Fanfiction: Inferno Wiki
Click to go to MTV's Eye Candy Wiki
Featured Article
A is for Answers
For years we have watched the Liars try to unravel the disappearance of their BFF, Alison DiLaurentis. Yet season after season, the girls were left with more questions than they had answers. Tuesday, March 18th, that will all change! Be sure to catch the finale "A is For Answers" for an episode of reveals. Who tried to kill Alison? Who was buried in Alison's place? Who pushed Ian off the Bell Tower? Get all the answers and more in the sure to be epic season finale! Find out what happened that fateful night through Ali's point of view.
Read more...
Next Novel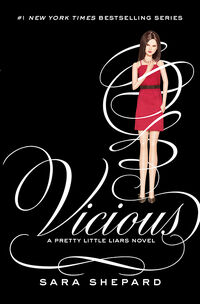 Vicious
Vicious is the 16th book in the Pretty Little Liars, written by Sara Shepard. In Rosewood, Pennsylvania, reporters are lined up outside the historic courthouse, typing furiously at their iPhones with freshly manicured nails. Because the trial of the century is happening right here in Rosewood: the four pretty little liars have been accused of killing Alison DiLaurentis. Only Aria, Spencer, Hanna, and Emily know that they've been framed. Ali is still out there, laughing as she watches the girls go down for her murder. But when your nickname includes the word "liar," no one believes you're telling the truth. . . .
Aria tries to run away from it all but finds that life on the lam is even harder than life as a liar. Spencer gets in touch with someone who can help her disappear—but when a guy from her past reemerges, Spencer no longer knows what she wants. Hanna decides that she'll hear wedding bells chime before she serves time. And in the face of prison, Emily does something truly drastic—something that will change her friends' lives forever.
As the trial goes on and the outcome looks grim, the girls are in their darkest hour yet. But maybe they can finally figure out how to beat Ali at her own game. Because once upon a time, she was just a pretty little liar too. .
Read more...
Next Episode
Welcome to the Dollhouse
In The News
Loading RSS data...
Loading RSS data...
Loading RSS data...
<center>Refresh · Read more...