"
What are you doing here?
"

— Ian to A in the Bell Tower
Ian Thomas is Melissa Hastings' deceased husband, he was the coach of the Rosewood High field hockey team, and a part of the N.A.T. Club when he attended Rosewood as a student. He was protrayed by Carlo Marks in the Pilot and by Ryan Merriman in all his other appearances.
History
Ian Thomas was friends with Jason DiLaurentis and Garrett Reynolds in school. The three formed a club called the N.A.T. Club, which is later explained to stand for "We See All" in Latin. He dated Alison, Melissa, and Spencer. It is not clear who pushed him off the bell tower yet, but it will be found out in the Season 4 finale, "A is for Answers." He was found deceased with a suicide note. However, the suicide note is revealed to be a fake in later episodes.
Series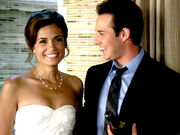 Appearances (17/95)
Season 1 (12/22)
Season 2 (4/25)
Season 4 (1/24)
Book Comparisons
Notes
Quotes
Melissa: Spencer can keep a secret.
Ian: I know she can.
Spencer: And no golf for the newlyweds?
Ian: Well, you know — we spent most of our time indoors.
Ian to spencer: The guilt was just too much for you
Ian to 'A': What are you doing here?
v - e - d
Characters
New Characters (that haven't appeared yet)
TBA