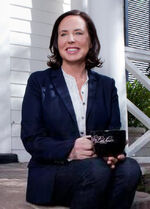 I. Marlene King (born on May 22 in Regensburg, Germany) is the executive producer and showrunner on ABC Family's Pretty Little Liars.
College & degree: Pepperdine University, BA with a major in Broadcasting.
King has two sons: Atticus and Emerson King.
She thinks Jacob Artist is cute, and is a big fan of him.