Holly Marie Combs
Comments

9
682pages on
this wiki
Birthplace:
San Diego, California, U.S.
Birth date:
December 3, 1973
Years Active:
1985–present
Holly Marie Combs portrays Ella Montgomery in Pretty Little Liars. She appears in every episode except "There's No Place Like Homecoming". Although she is not one of the main four characters Holly is the third top billed cast member behind Troian and Ashley.
Biography
Edit
Holly Marie Combs was born December 3rd 1973 to Lauralei Combs (née Berckhem). She was sixteen when Holly was born, her father was seventeen. Her parents married, but divorced after just two years. While Combs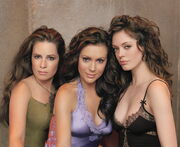 was learning to walk, she hit her head on a marble table, resulting in a scar over her right eyebrow. Holly and her mother moved a lot due to Lauralei's pursual of an acting career. When Combs was seven, she and her mother moved to New York City. She was 12 when her mother married her stepfather. In New York City, Combs attended Beekman Hill Elementary and then The Professional Children's School of Acting. In February 1993, Combs married Brian "Travis" Smith but the marriage ended in 1997. In 2004 Holly married Charmed key-grip David Donoho on February 14th. They have three boys: Finley Arthur Donoho (born April 26, 2004), Riley Edward Donoho (born October 26, 2006) and Kelley James Donoho (born Tuesday, May 26, 2009). Combs has smoked since she was fifteen but only when she was nervous then she quit when she was pregnant with Finley Arthur. Holly has two younger half-sisters through her father.