Holly Marie Combs portrays Ella Montgomery on Pretty Little Liars. She received star billing for the first three seasons. Since then (season 4-present), she is credited as a Special Guest Star every time she appears.
Biography
Holly Marie Combs was born on December 3, 1973, to Lauralei Combs (née Berckhem). Her mother was sixteen when Holly was born; her father was seventeen. Her parents married, but divorced after just two years. While Combs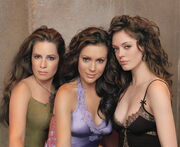 was learning to walk, she hit her head on a marble table, resulting in a scar over her right eyebrow. Holly and her mother moved a lot, due to Lauralei's pursual of an acting career. When Combs was seven, she and her mother moved to New York City. She was 12 years old when her mother married her stepfather. In New York City, Combs attended Beekman Hill Elementary, then The Professional Children's School of Acting. In February 1993, Combs married Brian "Travis" Smith, but the marriage ended in 1997.
In 2004, Holly married Charmed key-grip David Donoho, on February 14th. They have three boys: Finley Arthur Donoho (born April 26, 2004), Riley Edward Donoho (born October 26, 2006) and Kelley James Donoho (born Tuesday, May 26, 2009). Holly filed for divorce from David Donoho in November 2011, citing irreconcilable differences. Combs has smoked since she was fifteen, but only when she was nervous, then she quit when she was pregnant with Finley Arthur. Holly has two younger half-sisters through her father.
Filmography
Movies
| Year | Title | Role | Notes |
| --- | --- | --- | --- |
| 1985 | Walls of Glass | Abby Hall | Classmate |
| 1988 | Sweet Hearts Dance | Dens Boon | |
| 1989 | New York Stories | Helena | Costume Party Girl |
| 1989 | Born on the Fourth of July | Jenny Turner | |
| 1991 | Nobody Can Hear You Scream | Melinda Ashwood | |
| 1992 | Simple Men | Kim Fields | |
| 1992 | Dr. Giggles | Jennifer Campbell | Lead role |
| 1992 | Chain of Desire | Diana Richards | |
| 1994 | A Perfect Stranger | Amanda Hale | |
| 1995 | A Reason to Believe | Sharon Digby | Independent movie |
| 1995 | Evil in the Basement | Karen Ford | |
| 1997 | Love's Deadly Triangle: The Texas Cadet Murder | Diane Zamora | Lead role |
| 2001 | Ocean's Eleven | Herself | Cameo |
Television
Year
Title
Role
Notes
1990
Guiding Light
Louisa Young
2 episodes
1991–1994
As the World Turns
Denise Jones
5 episodes
1992–1996
Picket Fences
Kimberly Brock
Main role (83 episodes)
1994
Island City
Erin Sloan
PTEN movie
1996
Sins of Silence
Sophie DiMattio
CBS movie (Lead role)
1997
Our Mother's Murder
Alex Morell
Lifetime movie (Lead role)
1997
Relativity
Anne Pryce
Episode: "Billable Hours" (1.14)
1998–2006
Charmed
Piper Halliwell
Lead role (179 episodes)
Producer (seasons 5–8)
2003
See Jane Date
Natasha Nutley
ABC Family movie (Main role)
2007
Panic Button
Katherine Alden
Lifetime movie (Lead role)
2010–2017
Pretty Little Liars
Ella Montgomery
Series regular: seasons 1–3
Special guest star: seasons 4–present
2014
Hell's Kitchen
Herself / restaurant patron
Episode: "15 Chefs Compete"
2015
Off the Map with Shannen & Holly
Herself
Great American Country reality series (6 episodes)

Gallery