"
Dude, you are so screwed. When this is all over, she's gonna get her diploma. You're gonna get a pink slip... and an orange jumpsuit.
"

— Hardy about Ezria
Hardy appears in the episode "Reality Bites Me" when he shows up to watch Ezra read his short story at a reading in a small bar. He is a friend of Ezra's from college, as well as his former roommate. He is played by Patrick J. Adams, who went on the show in attempt to win back his then ex, now fiance, Troian Bellisario. (Spencer Hastings)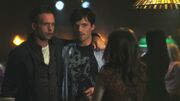 At the reading, Hardy spots Aria and can tell that she is there to support Ezra. He introduces himself as Ezra's former roommate, and Aria admits that she is his student. After his piece, Ezra is surprised to find his old college friend Hardy in attendance. The three then hang out, eating French fries, playing darts, and sharing stories with Aria about Ezra's time in college.
Hardy is quick to pick up on Aria and Ezra's scandalous relationship, warning Ezra that it could bring him more harm than good down the line. He doesn't think it's a good idea for Ezra to be dating a student. Later, Ezra takes Hardy's comments to heart; he mocks Aria that she will find out what college guys are like when she gets to college after she asks if all college guys are like Hardy.
Appearances (1/95)
Edit
Season 1(1/22)
Hardy [to Ezra]: Dude, you are so screwed. When this is all over, she's gonna get her diploma. You're gonna get a pink slip... and an orange jumpsuit.
Hardy's Gallery
Edit