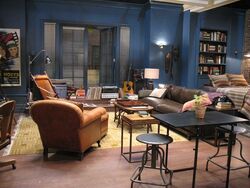 Address: Apartment 3B, 33 Hybbert Street, Rosewood, Pennsylvania.
Ezra's apartment was the only place where Ezra and Aria could openly exist while their relationship was a secret. Ezra has decorated his apartment with vintage posters and numerous books. He's made room in his studio apartment for a typewriter, record player, and a telescope.
Byron mentions in "A Hot Piece of A" that he and Ella once attended a party in that building during grad school.
Occupants
Current
Past
Book-Series Comparison
Ezra's apartment is on the first floor in the books whilst it is on the second floor on the show.
The main difference between the two apartments is the large clawfoot bathtub in the middle of the book apartment.
Gallery
Ad blocker interference detected!
Wikia is a free-to-use site that makes money from advertising. We have a modified experience for viewers using ad blockers

Wikia is not accessible if you've made further modifications. Remove the custom ad blocker rule(s) and the page will load as expected.