"
When I was at my most lonely and unhappy and angry place... You loved me. Even when I was an ugly human being, you saw a beautiful soul. You make the world a better place because you see the good in it. And you make me a better woman because you searched for one. Do you promise to do that every day for the rest of our lives?
"

Emison is the romantic relationship and friendship between Alison DiLaurentis and Emily Fields. It's one of the four major ships in the Pretty Little Liars fandom.
Series
Dating Timeline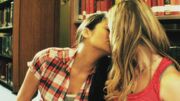 First Kiss: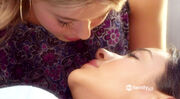 Second Kiss:
First Hook-up: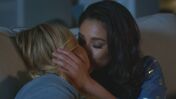 Second Hook-up: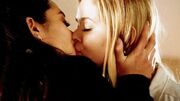 First Relationship:
Parenthood: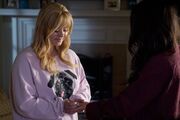 Engagement:
Threats to Emison
Past
Memorable Places/Items
The Kissing Rock - Ali told Emily (and the other Liars) a story about the Kissing Rock being a place for lovers to visit, and asked Emily who she would take there, knowing that Emily wanted to take her. The initials EF+AD are spray-painted on the side of the rock in the shape of a heart, presumably standing for Emily Field+Alison DiLaurentis. Years later, Alison took Emily to the kissing rock where she had planned a romantic picnic and the two had sex there.
Rosewood High Library - Alison read Emily a romantic poem and the two shared their first kiss there.
​Alison's Bedroom ​- Emily and Alison had sex together for the first time in Ali's bedroom. Emily also temporarily stayed in Alison's room while her house was under construction. The two also spent notable times in her bedroom such as: Ali telling Em to break-up with Ben, Emily staying there to comfort Ali when the latter was grieving the death of Jessica, Emily comforting Ali after Charlotte's death, and Emily finding Ali's red jacket and remembering their memorable moments together.
Emily's Bedroom - Alison came to visit Emily in her room one night while she was missing to talk. Later, Emily admitted to her mom that she did have feelings for Alison before her disappearance and told Pam that she was working on her feelings for Alison. Other memorable times include: Emily staging a confrontation between Paige and Alison and acting as a buffer, Emily letting her stay in her room when she didn't want to go home, and Alison apologizing for their messy past and admitting that their past kisses weren't just for practice.
Paris/Eiffel Towers - Alison once told Emily that they should got to Paris, and that Emily would look good on the Eiffel tower with the wind in her hair. When asked, Ali said they would go away forever. While in Welby, Ali mentioned to Emily that they missed their flight (to Paris) and Emily assured her that they would take the next one. When Emily saw the Eiffel Towers in the Alison's room, she remembered them talking about going to France together.
Snow Globe - On the day of her disappearance, Alison gave Emily a snow globe, and asked her not to tell the others as she hadn't gotten them any presents, making this gift special for Emily. Alison also confessed to Emily that of all the girls, she was the only one who understood her and could be completely honest with. In the snow globe was a key that Alison wanted to keep safe, knowing that Emily would guard it for her. Emily kept the snow globe for years, and may still have it.
Trivia
Children
Quotes
Alison: [reading to Emily] I loved her against reason, against promise, against peace, against hope, against happiness, and against all discouragement that could be.
Alison: Shy in the streets, sexy in the sheets.
[Alison and Emily exchange a smile]
Alison: You and me in sweet Paris. How does that sound?
Emily: Maybe we should learn to 'parler francais' before we go.
Alison: We could start in the South of France. Dancing through the sunflower fields... Lounging around in our bikini's in the French Riviera. You'd look so good on top of the Eifel Tower, the wind in your hair...
[Emily stands up and walks over]
Emily: How long are we going away for?
[their hands touch on the photograph]
Alison: How about forever?
Emily: I loved Alison. As more than a friend. I just never had the chance to tell her in the right way.
Alison: I saved your life, twice. I risked everything for you.
Emily: You destroyed me, okay? I thought you were dead.
Alison: But I'm not... Aren't you glad that I'm not?
Emily: Mrs. DiLaurentis, I want you to know that you're not the only one who's seen Ali. I have too.
Jessica: Of course, you have. You loved her as much I did. I wish that Ali could have returned those feelings. I couldn't have asked for a better person to love her then you.
Alison: When I was talking to Paige... I realized that I owe you an apology too. I always made you think your feelings for me were totally one-sided. That wasn't true. Those kisses weren't just for practice.
Emily: I don't know what you want me to say.
Alison: You don't have to say anything.
Emily: Why are you telling me this now?
Alison: I just thought you should know.
[Alison is crying. Emily wipes her tear]
Emily: Hey, it's going to be okay.
[Alison kisses Emily who pulls back]
Emily: Ali, you're really vulnerable right now.
Alison: That's not why, I promise.
[they kiss again]
Alison: I know how I feel when she looks at me. I never felt that with anyone before. It's like... She sees who you really are. Maybe that's the scariest part. You look at her, and you look at her eyes and you wanna be worth the effort. You wanna be the person she sees.
Emily: I don't know why I thought I had to protect you. You're basically the strongest woman I know.
Alison: You've always protected me, Em. Ever since I met you I knew I could count on you.
Alison: I want to do this. Together.
Emily: What do you mean, together?
Alison: I want to be a family. Over the years, I've been so many failed relationships and I always made excuses why. But I know the reason. Paige tried to get me to say it but I didn't want to say it to her.
Emily: What-
Alison: I love you.
[Alison takes the bear from Emily and sets it aside]
Alison: You told me not to do this until I was ready.
Emily: Do what?
Alison: This.
[They kiss]
Alison: Love you.
Emily: Love you, too.
[they share a kiss and Alison hands her the babies, and watches Emily walk away]
Gallery
Ad blocker interference detected!
Wikia is a free-to-use site that makes money from advertising. We have a modified experience for viewers using ad blockers

Wikia is not accessible if you've made further modifications. Remove the custom ad blocker rule(s) and the page will load as expected.