"
If lying was a crime, we'd all be in jail.
"

— Emily
Emily Fields is one of the main characters in the Pretty Little Liars television series on ABC Family. She is portrayed by Shay Mitchell.
Biography.
Emily Fields is the 'jock' of the group with a strong talent of swimming allowing her to be the star of Rosewood's swim team. Out of the girls, Emily would be described as caring, sweet and loyal. Emily cares so much about her friends that she tries so hard to keep them safe. She is an only child therefore the center to her parents life. Although Emily has been through many difficulties (such as the death of her ex-girlfriend Maya St. Germain), she always seems to stay strong and comes out on top. Emily is considered the weakest link by "A."
Emily has had a rough past of being in love with her best friend Alison before she disappeared. When "A" comes to the scene Emily finds it hard to try stop people and even herself knowing her real sexuality, At times even Ali would say things to put Emily at risk of being outed. Initially when Emily came out, her parents, especially her mother, struggled to handle the news, but now they seem to be accepting of her sexuality and her friends have always be supportive of her.
Physical Appearance
Emily has a slightly roundish oval face with full lips and deep set hooded eyes. Her dark brown hair which is usually worn down, compliments her olive complexion. She has an athletic body type as she is a swimmer. She is the simplest dresser and wears minimal makeup. Her charming smile adds to her persona.
Series
Appearances (110/120)
| | | |
| --- | --- | --- |
| Season 1 (22/22) | Season 2 (25/25) | Season 3 (24/24) |
| | |
| --- | --- |
| Season 4 (24/24) | Season 5 (15/25) |
Relationships
Alison DiLaurentis:
 Emily had a crush on her, and it's possible that Ali loved her too.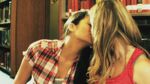 They've kissed twice - first in library, and second in hallucination. (see: "
Emillison
")
Ben Coogan:
Broken Up.
Maya St. Germain
: Maya Died. (see "
Emaya
")
First Relationship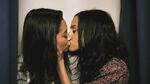 Second Relationship
Paige McCullers
: Broken Up. (see "
Paily
")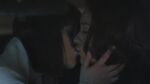 First Relationship
Second Relationship
Third Relationship
Samara Cook:
Briefly Dated. (see "
Emara
")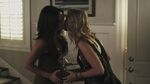 Trivia
Quotes
Toby: Notice how much we keep saying "sorry" to each other.
Emily: Sorry.
Spencer: You taking something for the pain?
Emily: Yeah, but nothing that dulls my mother.
Emily [about Alison]: I loved her as more than a friend.
Emily: If lying was a crime, we'd all be in jail.
Hanna: Is this a gay thing?
Emily: No. It's a brain thing.
Emily: Can we get out of here? My goosebumps are getting goosebumps.
Emily: Guys, I don't trust Melissa as far as I can throw her and Ian's fetus.
Aria: What should wear? I have to look insanely sophisticated for this.
Emily: How about a "Hello Kitty" t-shirt?
Emily: Lying to Toby is like lying to the Dalai Lama.
Spencer: Senior year is supposed to be best year of life, did you know that it?
Emily: Yeah, if you survive it.
Emily: Look, I don't want to be the person who ends up with a mushy squash.
Paige: Are you drunk?
Emily [to Ezra]: Will you make sure real teacher gets this?
Emily's Promotional Photos (Gallery)