"
I think we just met Charles.
"
Ella Jane Montgomery (née Rose) is the mother of Aria and Mike, and the ex-wife of Byron Montgomery. She is portrayed by Holly Marie Combs.
Biography
Ella was born Ella Jane Rose to Judy and Jack Rose sometime in 1972. Ella married Byron on November 22, 1993 and gave birth to both of her children in the mid to late 1990s. She cares dearly for her kids and respects their privacy. Ella and Byron separated after finding out about his affair with Meredith Sorenson from "A" and then her daughter and later got divorced due to irreconcilable differences.
Ella began dating Zack, and later became engaged while the two were living in Austria. Ella ended her engagement when she found out from her daughter that Zack had flirted heavily with Hanna, going as far as giving her his number.
Series
Apparences (61/140)
Relationships
Byron Montgomery: Divorced.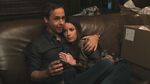 1st Relationship
2nd Relationship

Zack: Ex-fiancé.
1st Relationship
Trivia
Book Comparisons
Quotes
Ella: People aren't dolls. You can't just play with them and put them back in the box.
Byron: I don't wanna leave.
Ella: I don't want you to stay.
Ella [to Byron]: We raised her to be independent and open-minded and we don't get to be shocked that that is now who she is.
Ella: I haven't been on a date since George Clooney has been on E.R.
Ella [to Aria]: Wait, why am I asking you? You wear forks as earrings.
Gallery