Other Name:
Diego Andrés González Boneta
Birthplace:
Mexico city, Mexico
Birth date:
November 29, 1990 (age 25)
Years Active:
2002-present
Occupation:
Actor, Singer, Songwriter
Diego Andrés González Boneta is a Mexican singer and actor. He is best known for playing Rocco in the Mexican soap opera Rebelde and recurring character Javier Luna in the spin-off series, 90210. He also recently recorded his self-titled debut album with his first single, "Responde" in 2005 and a Brazilian version for the album, with songs in Portuguese was recorded in 2006. The album was released in Mexico, Brazil and Chile.
He played Alex Santiago on the Pretty Little Liars television series.
Debut Album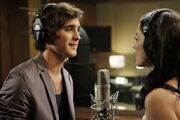 Diego's self-titled debut album was released in Mexico, Chile and Brazil in the year, 2005. The album will be released in the United States on 24 April. The album will be available for digital sale on April 3. The first single, "Responde" has already made it to #13 on the Mexican charts.
Indigo
Diego's second album titled Indigo was released on 25 March 2008, It features the singles "Perdido en Ti" and "Losing Me", produced and written by Mitch Allan and Kara DioGuardi. On 5 May 2008, "Losing Me" and "Perdido En Ti" became iTunes Free Single of the Week and song became very popular.
Diego was planning on promoting his album in the US Leg of the Empezar Desde Cero Tour 2008 with RBD but was replaced by La Nueva Banda Timbiriche.
Filmography
TV Shows
Film
Gallery
Ad blocker interference detected!
Wikia is a free-to-use site that makes money from advertising. We have a modified experience for viewers using ad blockers

Wikia is not accessible if you've made further modifications. Remove the custom ad blocker rule(s) and the page will load as expected.