"
One more and they'll be able to see my ass in Philly.
"

— Bianca
Bianca
General Information

Gender:

Female

Age:

Unknown

Hair Color:

Dark Brown

Eye Color:

Brown

Height:

5'9"

Occupation(s):

Student
Relationships

Friends:

Zoey
Quinn
Samara Cook
Series Information

Interests:

Playing Cards
Series Information

Status:

Alive

First appearance:

Picture This

Latest appearance:

Picture This

Portrayed By:

Aurora Perrineau
Bianca is friends with Samara Cook and is part of her circle of friends, including Quinn and Zoey.
Series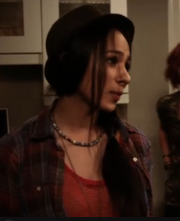 In Picture This, Bianca attends the girl's night at the Marin home, where her and her friends get to know Samara's new romantic interest, Emily. They play poker, and while Zoey is losing, Bianca makes a comment about how she sucks at poker. She also seems to be rather humorous as well: when Emily offers more cupcakes, she makes the statement, "Not me. One more and they'll be able to see my ass in Philly."
Ad blocker interference detected!
Wikia is a free-to-use site that makes money from advertising. We have a modified experience for viewers using ad blockers

Wikia is not accessible if you've made further modifications. Remove the custom ad blocker rule(s) and the page will load as expected.