Behind the Curtain is the new ABC Family behind-the-scenes of the latest episodes. It is a available to watch on ABC Family's Youtube and Facebook and airs every Wednesday.
So far five episodes: Pretty Little Liars After Party, AriaFindsOut, AriaFreaksOut, AriaandEzra and PLLwhitewedding - have aired as of March 2014.
Who's On The Couch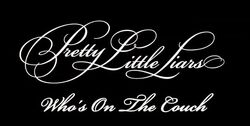 Pretty Little Liars After Party
Keegan Allen
Madi Line
Joseph Dougherty
AriaFindsOut
Maya Goldsmith
Janel Parrish
AriaFreaksOut
Lindsay Shaw
Chad Lowe
Kyle Bowen
Jonell Lennon
AriaandEzra
Bryan Holdman
iJustine
Keegan Allen
PLLwhitewedding
Holly Marie Combs
Oliver Goldstick
Maya Goldsmith
Andrea Parker
Fan Takeover
Videos
Ad blocker interference detected!
Wikia is a free-to-use site that makes money from advertising. We have a modified experience for viewers using ad blockers

Wikia is not accessible if you've made further modifications. Remove the custom ad blocker rule(s) and the page will load as expected.