"
I am me because of what has happened what I've done and because of who I love. I like that person. That me. Mess and all.
"
Aria Marie Montgomery is one of the main characters in the Pretty Little Liars television series on Freeform. She is portrayed by Lucy Hale. 
Biography
Aria Montgomery was the artsy and alternative girl in Alison's clique prior to her disappearance, sporting pink streaks in her hair. Alison and Aria discovered Aria's father's affair with a college student, Meredith Sorenson, one afternoon while running away from the nerdy Mona Vanderwaal, and found him kissing Meredith in his car. Ever since, Alison used the affair to keep Aria in line, knowing Aria was asked to keep it a secret. Her constant teasing about the indiscretion led Aria to resent Alison. Shortly after Ali's disappearance, Aria moved to Iceland for a year, and came back, sans pink highlights, becoming more mature. She meets her future English teacher Ezra Fitz in a bar, hooking up with him, leading to an on-again off-again relationship throughout the series due to A's threats. Due to the loose connection she and Ali shared, she is not a frequent target of A, but is still forced to deal with the misfortunes A brings upon her (ruining her relationships, driving a wedge between her parents). She can be described as a kind and caring friend, always willing to protect them from any threats "A" has. She was kidnapped by "A"' while being escorted to prison in "Welcome to the Dollhouse".
Physical Appearance
Aria has a pale ivory complexion complimented her with round hazel eyes and plump lips. Her natural dark brown hair is wavy and had pink highlights prior to Alison's disappearance. She has a petite frame and stands approximately at 5'2 ft, the shortest of her friends. As part of her punishment for not following his orders, Charles cut her hair short while keeping her prisoner in the dollhouse and she has kept it that length ever since. She had her hair brown in darkish blonde ombre. Her fashion motifs has printed dresses, boots, tights, necklaces, etc., and is interested in anything girly.
Series
Appearances (158/160)
Relationships
Ezra
Ezra Fitz:
Engaged (See "
Ezria
")
Noel
Noel Kahn:
Briefly dated. (See "
Ariel
")
Jason
Jason DiLaurentis:
 Ex-Boyfriend. (See "
Jaria
)
Jake
Jake:
Briefly dated. (See "
Jakria
")
Riley
Riley:
One-night stand. (see "
Raria
")
Andrew
Andrew Campbell:
Ex-Boyfriend (see "
Andria
")
Liam
Liam Greene: Ex-Boyfriend (see "Liaria")
Trivia
The name, "Aria" means Solo Melody, which is a kind of song in the opera and Aria is also a great singer.
"Aria" means air in Italian.
Lucy Hale auditioned for the role of Hanna Marin as well but was given the role of Aria Montgomery instead.
Aria has an alternative fashion sense and loves music.
Out of the four Liars, Aria has the second most secrets after Spencer.
In "The Perfect Storm", we learn that Aria is a talented singer.
Aria was the first Liar to receive a message from "A".
Aria is also the first Liar to have a flashback of Alison.
In "Father Knows Best", the other four girls (Spencer, Emily, Hanna and Mona) all agree that Aria is the best liar.
Out of all four girls, Aria has received the fewest messages from "A".
Aria has received 17 individual messages from "A", plus 21 messages sent to all four girls.
Aria is vegetarian (as revealed to Jake in "The Mirror Has Three Faces").
Aria has had the least amount of harassment from "A".
Aria has cheated on every boyfriend she's had (except Andrew). When she was dating Noel, she cheated on him by making out with Ezra. When she was dating Ezra, she kissed Jason in Season 2 and with Wesley, his brother, in Season 3. When she was dating Jake, she kissed Ezra. When she was dating Liam in Season 6B she had sex with Ezra in Season 6B. Most of these are with Ezra.
Aria seems to be the closest to Spencer. They are constantly hanging out and comforting each other. This friendship may be because of neither of them being completely awestruck by Ali. She is also fairly close to Hanna and Emily.
Aria used to have a pink highlights prior to Alison's death and moving to Iceland.
Ezra and Aria started and ended their relationship to the same song "Begin Again" by Measure and it was the same hallway. ("Pilot" and "A DAngerous GAme")
Aria is the only girl who hasn't had a one-on-one scene with Toby or Wren.
Aria was the only Liar to have a scene with Sara Shepard.
Aria is the second Liar to kill someone on the show, after Emily. She accidentally killed Shana in "EscApe From New York".
Aria lost her virginity to Ezra in "If These Dolls Could Talk".
Aria's email address is shown in "Fresh Meat", aria_montgomery@yourmail005.com.
Book Comparisons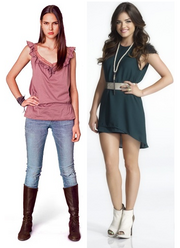 Main Article: Aria Montgomery (Book Character)
She had pink highlights a year ago before going to Iceland, whilst in the book it was 3 years ago.
In the books, Aria had blue-black hair and ice-blue eyes and is described as freakishly tall. In the show, she's a brunette with hazel eyes and short in height.
In the books, Aria's parents want their children to call them by their first names (Ella and Byron), while in the series, they are called "Mom" and "Dad."
In the books, Aria is known to be anti-Rosewood and calls the people there "Typical Rosewoods". There's no mention of her dislike in the show.
Aria's parents get divorced after Ella learns about Bryon's affair and he marries Meredith Gates, the woman who he cheated on Aria's mom with in the first place, and together their union produces Lola Montgomery, Aria's half-sister in the books. On the show, her parents get back together after the affair, but begin divorce proceedings the following year. However, the divorce had nothing to do with the affair, but with their parents differing views on Aria and Ezra.
In the Pilot episode, Aria is the first character shown/mentioned after the flashback of the sleepover, while in the book, it was Emily.
In the book series, she was considered the "weird, kooky girl" of Rosewood before Alison's disappearance, while in the TV series, this is not mentioned.
In the books she loses her virginity to a boy she met in Iceland, Oskar, whilst in the TV series, she loses her virginity to Ezra.
In the TV series, Aria dates Ezra and shortly dated Noel, while in the books they have a relationship after Ezra leaves.
In the books, Aria only briefly dates Ezra, but in the show, Aria and Ezra have been together since the Pilot.
In the books, Aria goes out with Noel, and their relationship is pretty serious, whereas in the show, their relationship is short and Aria cheats on Noel with Ezra, and then dumps him for Ezra.
In the books, Aria dated Sean Ackard for a brief time. In the TV series, she refuses to go out with him because she's Hanna's friend first.
In the books, Ella is upset with Aria for keeping her fathers affair a secret, whilst in the series she blames Byron for making Aria keep it a secret.
Aria secretly gets married in Vegas to a boy she met in Iceland and gets a divorce a day later, this did not happen in the show.
Quotes