Alison DiLaurentis
Comments

2k
681pages on
this wiki
"
You think the truth is some big shiny disco ball of purity? Then go ahead and try it. Be honest. See what it gets you. Telling the truth to the wrong person at the wrong time is how I ended up where I am. Take it from me, you're always better off with a really good lie.
"

Alison DiLaurentis is a character in the television series Pretty Little Liars on ABC Family. She is portrayed by Sasha Pieterse
Biography.
Alison was the 'It Girl' and Queen Bee of Rosewood's teenage social circle, who had been best friends with Hanna, Aria, Spencer, and Emily before disappearing the night of September 1st, 2009. Out of the girls, she was the one who was pretty, manipulative, secretive, devilish and vindictive. Despite her bad behaviour towards people, she could also make them feel very special. Her parents did not know the real Alison only their sweet girl who did what she wanted. Alison did not have a close relationship with her brother; they often fought.
One year after her disappearance, Alison's body was found buried in the backyard of Maya St. Germain's house (her old house). The autopsy states that she suffered a blow to the head and subsequently suffocated to death, with dirt being found in her lungs. The item that was used to hit her was supposedly a shovel, which was also used to bury her. A flashback is shown in "This Is A Dark Ride" of her hand coming out of the ground of her backyard, made for a gazebo. It is later revealed someone helped her out of the ground.
In "A DAngerous GAme" it is revealed that Alison may possibly be alive and wandering around in a Red Coat. While her current existence has always been somewhat ambiguous throughout the series; Hanna, Spencer and Mona insist that Alison is alive because they have seen her, however Aria and Emily haven't . Her potential existence ultimately raises a number of questions, especially concerning the body that was discovered in the pilot episode.
Personality & Traits
Though Alison had it all, she was easily threatened by people who intimidated her. Her jealousy and need for power got the best of her and often caused her to act cruel and selfish. Her fearless nature helped her to get back at her enemies in big ways. Alison was vindictive and cunning, often using other people as tools in her manipulations - she was the snake behind an angel's face.
Nobody told a lie better than Alison. She kept many secrets from her friends but never let them keep any from her. Alison often used her friend's secrets to keep them under control. She spun a web of lies so tangeled that her friends were left to deal with 'A' even after she was gone.
Physical Appearance
Alison is a very attractive and gorgeous young girl. She has golden blonde hair, which is usually in perfect curls along with blue eyes. Her face is heart-shaped and perfectly symmetrical. She is slender and graceful, and wears fashionable and feminine attire. Alison's physical appearance is mainly reflected in her confident and calculating stance.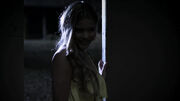 The series begins with footage of the night Alison DiLaurentis disappeared. Alison, Aria Montgomery, Spencer Hastings, Hanna Marin and Emily Fields were having a sleepover party in Spencer's barn. Alison scared them by sneaking up on them in the barn doorway, causing them all to laugh. Aria, Hanna and Emily later wake up from their sleep and realize Spencer and Ali are both missing. Spencer then returns to tell the other girls that she looked for Ali everywhere and thinks she heard her scream.
Aria has a flashback to October 2008 when she and Alison had cruelly ditched nerdy Mona only to find her father, Byron, kissing another woman inside his car.
Spencer flashes back to a moment the summer before, when
Melissa Hastings
was dating then-boyfriend
Ian Thomas
. She had been standing with Alison and Hanna in her kitchen when Ian and Melissa walked in. Suddenly, Alison announced that Spencer had something to reveal, but Spencer denied it, and was annoyed by Alison's blunt betrayal. Outside, out of earshot, Ali had threatened to expose Spencer's secret in front of her sister, namely the fact that she had once kissed her sister's boyfriend Ian. Spencer had countered with a threat to expose Ali's involvement in "
The Jenna Thing
".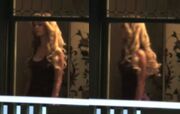 After the flashback, Spencer looks out the window and sees into the window of Alison's house across from hers, a wavy blonde figure moving about inside. Spencer gasps, "Alison."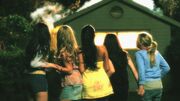 Alison reveals to the girls that she believes Toby Cavanaugh is spying on them while they were trying on clothes in Emily's room, and has been for some time. Alison immediately hatches a plan to drop a stink bomb in his garage as revenge. Emily and Aria try to back out, while Hanna and Spencer also share their reservations, but Ali is adamant that Toby must be taught a lesson. Alison then orders Spencer to pass the match and ignites the firecracker, opening the door of the garage, and tossing it inside. But the prank went terribly wrong when the garage catches on fire, and Alison sees too late that someone - Jenna Marshall - was inside. As a result, Jenna was blinded from the accident, and Alison made sure that Toby falsely took the blame for it. Alison had blackmailed him with a piece of information that Spencer could not overhear.
While Emily is sitting by herself in a restaurant, she looks down at her bracelet and flashes back to the aftermath of "The Jenna Thing," when Alison had bought the other Pretty Little Liars friendship bracelets with their names on them. Alison had given the girls the bracelets in the same restaurant in which Emily is now sitting. At the time, she had even suggestively asked Emily to tie hers for her, indicating she knew Emily's secret.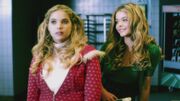 Hanna is being interrogated by Detective Wilden, who suspects Hanna of having tried to kill Alison out of jealousy. She assures him that nobody tried to compete with Alison, that it was pointless, and thus in turn prompts her memory of the time in her chubby days when she asked Sean out to a party. She had asked him with a nervous, quavering voice, and Alison had stepping in, pointing out that everyone was going. She made eyes at him, and he accepted, perhaps because he really found Hanna charming or perhaps because Alison had been hard to resist.
At Noel's cabin party, Spencer suddenly recalls the night of "The Jenna Thing," when the girls had to deal with the aftermath. Alison had been standing in front of the Cavanaugh house, blackmailing Toby with something to get him to take the hit for the fire in the garage. Spencer had walked over to listen, and Alison angrily pushed her back, angry that she violated her order to stay away. She follows Spencer to where the other girls are standing and tells her friends that she would have not set off the bomb in the garage if she had known someone was in there, even though it seems that she did see Toby and Jenna in there. Hanna expresses her desire to come clean to the police and explain it was an accident, but Alison rails on Hanna, basically calling her a fat loser until Aria scolds her, forcing her to apologize. But Alison makes sure she gets her way and makes the girls flee the scene, letting Toby take the fall. Spencer remembers seeing Toby as he was taken away in the cop car to the police station.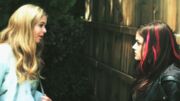 Aria watches her mother preparing dinner in the kitchen. She suddenly recalls the incident she witnessed, involving her father and Meredith kissing in his car. This time, she additionally remembers how Alison had tried to convince her to tell her mother what she saw. When Byron had tried to call Aria, Alison had warned her not to pick up, correctly suspecting that he would try to talk Aria out of revealing what she saw. Alison had warned Aria that she could risk losing both parents if she didn't tell.
There's No Place Like Homecoming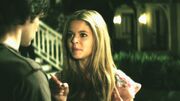 It is later revealed that Alison was threatening Toby to take responsibility for the fire, but he had told her that he will make sure she takes responsibility. In turn, she had threatened that if he tells, she would tell everyone Jenna and Toby had a sexual relationship. Spencer had come to see what was going on and Alison angrily yells at her to let her take care of it. The girls talk as the firetrucks show up, and are freaking out. Hanna begins to doubt Ali, and Alison starts to insult Hanna, bascially calling her a fat loser. Aria scolds her and Alison apologizes, and that shes just freaked out.
Please, Do Talk About Me When I'm Gone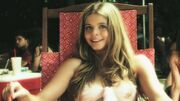 Preparations for Alison's memorial sparks memories of a summer day that the girls had spent lounging by the lakeshore. Ironically, the girls had spoken about immortality and the fantasy of living in this moment forever. Alison had said that one could only attain immortality by dying young and leaving behind a beautiful corpse. Alison had also romanticized how fabulous it would be to die in a mysterious way.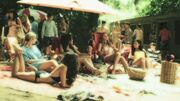 Spencer recalls in a flashback who else was at the beach that day. Jenna had come to start a barbecue, wearing her now familiar shades before taking them off. Alison expresses her annoyance, and Emily comments on Toby's conspicuous absence. When Alison responds by joking about him being busy making animal sacrifices, Spencer rolls her eyes and points out how typical it was of Alison to taunt others. But, she softens when the girls all agree that this day was perfect, and then shares their dream that they would stay friends until they grow old.
After Hanna makes a comment to Aria about how she used to crush hard on Noel, she flashes back again to that day and remembers how she and Alison had spotted Noel with a girl named Prudence. Alison had torn into her too, suggesting that she was anything but chaste with Noel and provocatively suggests that she had gotten a boob job. Aria watches Noel applying sun block on the other girl enviously. As if reading her mind, Alison asks if Aria would also do something like that to get Noel's attention. She then teases Aria for falling for brainy guys, and calls Noel immature and simultaneously perfect for Aria, flustering her.
Later, Hanna remembers who else Alison had picked on that day. When Lucas Gottesman had run in front of them to pick up his toy motor boat, she made a bunch offensive comments to him. Finally, Hanna exclaims "hey" as if to stand up to Alison and stop her from teasing him, but she then recoils and sits silent as Alison makes fun of her and Lucas trudges away.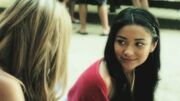 And, Emily remembers more of Alison's snide remarks that day. As she puts on Maya's gift scarf before the mirror, she recalls how Alison had commented on Noel and Prudence heading to The Kissing Rock. She matter of factly informed Emily that people had gone there to kiss for hundreds of years. She then looked Emily daringly in the eyes and asked her who she would like to take to The Kissing Rock. Emily just smiled shyly while staring back.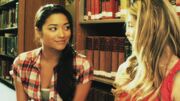 Emily is directed by "A" to the school library's copy of "Great Expectations," the same book Alison had been reading one day alone in the library. Emily hears Alison's laugh and sees a blonde sitting on the floor, a book on the shelf covering her face. She pulls it off and it is revealed to be Alison. A moment later, she is gone.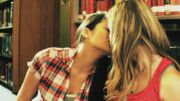 She has a flashback of that day. Emily had joined her on the floor, and Alison had stroked Emily's hair affectionately. Emily revealed her dream that Jenna could see again, and Alison said something about Emily's positive, perhaps naïve, attitude, to the effect of "that's why I love you, Emily." She then read her the passage of Pip's account of his ardent love for Estella: he loved her against reason and despite the fact that she basically played hard-to-get and gave him little hope for a future, in spite of her teasing. Quite fittingly, Emily then leaned in to kiss Alison, expressing her own love of the same nature. Alison actually smiled in return.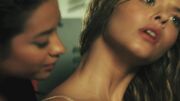 While reading the letter that she had written for Alison, Emily then remembers when she had been in the locker room with Alison alone. Alison was changing; she removed her towel to reveal her topless half and, before putting on her bra, made conversation about how she bought it in a French catalog, forcing Emily's already attentive eyes to stare. She had asked Emily to hook it, and after doing so, Emily had kissed her neck. Alison immediately turned on her, feigning shock, and cruelly let Emily know that their kiss meant nothing more to her than target practice for "the real thing." Abashed, Emily had turned, poised to leave, but Alison wouldn't let her escape the moment, reminding Emily that she was supposed to be giving her a ride home. Nevertheless, Emily remained, defeated and humiliated, showcasing Alison's control over her friends.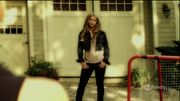 Spencer tries to convince Melissa to reunite with Ian. Afterwards, she flashes back to the previous summer when she had been practicing her field hockey swing on the front lawn. Ian had walked by, and, under the pretense of correcting her technique, put his arms around her waist and leaned in to kiss her neck. Surprised, Spencer had turned around to face him, and this, too, ended in a series of mouth kisses. After Ian walked away, Alison called out from where she was standing a few meters away to let Spencer know that she saw her kissing her sister's boyfriend. She called it disgusting and basically called Spencer a skank to boot, implying Alison's jealousy.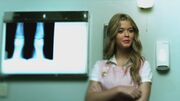 Hanna envisions Alison donned in a candy striper outfit visiting her in her hospital room. She smiles at Hanna and asks if she misses her. Weak, Hanna tries to ask her what happened that fateful night, but all Alison will say is that the four of them combined already know the truth. Additionally, she tells Hanna that "A" annoys her, and that she should really do something about that bitch. She reveals that it is dangerous for her to have come, but she did because she had to see if Hanna was ok. When she leaves, a berry-colored lipstick stain - the same shade that Alison is wearing - is seen on the rim of a styrofoam cup near Hanna's bed.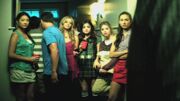 Hanna is in her wheelchair at the party Mona has thrown for her, when Noel walks in. Just the sight of Noel prompts Hanna to have a flashback about him at a different party, when Alison had manipulated a girl to dump Noel, who gave him a nasty look in return. Alison had claimed that they were all responsible, when it is obvious that the girls had been oblivious to how Alison had even managed to break them up in the first place. She claims that she did it for Aria, so she could have him instead, and that she only kills when they need food.
Later, Spencer sees a "Hilton Head" resort tag on Ian's luggage and has a flashback to Alison returning from an alleged weekend visit with her grandma in Georgia with the same tag hanging from her luggage. When Spencer tried to question Alison about the club's location being in South Carolina and her grandmother being in Georgia, Alison deflected the questions derisively, then expressed how eager she was to share her vacation stories with the other Liars. This is the day that Alison disappeared.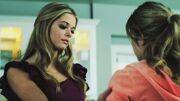 When Hanna is forced to eat a half dozen cupcakes by "A," she flashes back to one day when she had eaten an entire pie in her kitchen at home. Alison had walked in on her and Hanna quickly tried to clear the evidence by throwing it in the garbage; however, Alison had seen it anyway. Hanna broke down into tears, and Alison comforted her friend, hugging her and murmuring, "I understand." She then wiped away Hanna's tears and told her that she didn't have to feel that way, and she could show her how to get rid of it. Presumably, Alison had shown Hanna how to purge the calories she had just binged.
If At First You Don't Succeed, Lie, Lie Again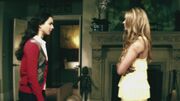 Spencer guiltily recalls how the night she disappeared, Alison had pressured Spencer to tell her sister about kissing Ian, something that would've left Ian all for Alison. Spencer refused, but Alison warned that Melissa would find out the next day, whether Spencer told her or not. Alison arrogantly claimed that Spencer and the other Liars were her puppets. Spencer furiously countered that she was sick of her games, that she would tell Melissa, but Alison was dead to her already. Alison appeared distraught, then left angrily, and after a moment's pause, Spencer marched outside after her.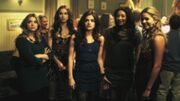 The girls flashback to a college party Alison had taken them to, probably in an effort to spy on Ian. Ian had been flirting with a particular tipsy girl and had gone off with her to one of the rooms upstairs. Later, that girl took a nasty tumble down the stairs. The girls all exchanged looks after her fall, and in hindsight, they are left to question whether Ian, or Ali, had pushed that girl.
Later that evening, the Liars stood on the lawn, discussing the incident, as a stretcher passed by. When Alison showed up, she had seemed either oblivious to the girl's accident or indifferent. At the same time, the girls were afraid of being caught being underage at a drinking party, which was very likely with the police swarming about. Alison had taken charge of the situation, brazenly asking a police officer for a ride home in his cop car, claiming to be too tipsy to get behind the wheel, when in reality she didn't want to take the bus and was too young to even drive. She wisely explained, "the bolder the move, the less anyone questions it." The girls got into the car as Alison exchanged a look with Ian on the porch.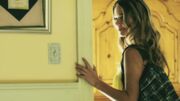 Emily makes a discovery after the Rosewood Founder's Festival. Emily reverts to the last time she saw Alison before the sleepover; she had visited Emily in her bedroom to give her a snow globe as a souvenir gift from her vacation. As she had not bought any gifts for the others, she asked Emily to keep it a secret from them. She mysteriously alluded to the fact that it was more special than one would realize at first. This flashback prompts Emily to examine the toy, and at the bottom, she finds a key with numbers printed on it. Thanks to the clue, Emily, Aria and Hanna track down the matching location and uncover a flashdrive contained in a lunch box, housed in a storage unit that Alison had rented! The flashdrive contains secret videos, mostly of the girls in private moments such as getting dressed in their bedrooms; Alison had somehow known that they were being spied on while she was alive. There is footage of Jenna on these videos as well, meaning that the Liars hadn't been the only girls to be spied on.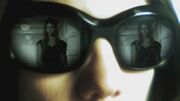 The girls corner Jenna to confront her about the incriminating video they found of her and Toby. Jenna discloses that Ali had visited her in the hospital on the day that she disappeared. She played the video footage of Jenna seducing her brother, and Jenna fumingly asked Alison were she got it. Alison replied that the guy she liked liked to make videos, perhaps vaguely referring to Ian. She threatened Jenna that if she ever told anyone about the Liars setting the fire, she would release the damaging videos. Jenna could only sit exasperated before Ali took the computer and moved to leave. Alison then turned to warn Jenna that if she ever returned to Rosewood, she would bury her. The Liars believe Jenna's account, given how it explains her seemingly strange speech at Alison's memorial dedication.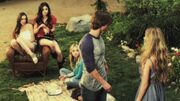 After Jason returns to his former home in Rosewood, Spencer drops by to give him cookies in hopes of finding out information from him. It turns out Jason wants information from her, but when she is not specific enough about whether Ian actually confessed to killing Alison, he returns inside. While still standing on the stoop, Spencer flashes back to one summer when Ali and the Pretty Little Liars' were lounging in the DiLaurentis' front yard. Jason had stormed out of the house, accusing Alison of messing with his stuff. She had retorted back sharply, mocking him and his friends for being stoners, and the other girls laughed. When Jason went back into the house, they questioned Alison whether she had stolen what he claimed she had. She admitted it gleefully. When Emily asked her whether she was worried that Jason would rip apart her room in search of his things, she mischievously replied that he would never find what she hid. Just then, a smashing sound was heard from inside the house, though Alison seemed unfazed. Spencer snaps back to reality when Jason's porch light switches off.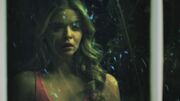 Spencer is troubled sleeping alone in her house. She looks out her window and sees Jason inside the room opposite hers, newspapering the windows to conceal everything inside. It prompts her to flashback to a time when Jason was having a party with his friends, and a distraught Alison had come to Spencer's house seeking refuge from the grabby drunk boys at the party. Putting on a strong front, she states how she could tell her grandmother about Jason's troubles and he'd easily be written out of her will. She had been in a tearful state, but lashed out when the girls tried to show her compassion and support, becoming insulting and turning impersonal. Emily had been over at the time as well, and the two girls wondered what had happened to Alison that upset her so much. Alison pretended to be upset because her grandmother was ill.
Hanna tells Dr. Sullivan her true feelings about Alison, in hopes of letting go. Her role playing makes it seem that Alison is really there, taunting Hanna about her feelings. Hanna calls Alison the best friend she ever had, but also her worst enemy. Alison is condescending, but Hanna doesn't allow the mental torture to continue, not caring whether Alison approves of her anymore. In her head, Alison calls Hanna's friends things that Alison has given her and insinuates that Hanna can't live without her. But, mentally, Hanna lets the ghost know that she is over her, that she won't let her into her life anymore, and that she is ready to move on.
A projector is showing the footage of Alison with Ian the night she died, the footage they thought was lost. This time, after falling to the floor, Alison gets up, giggling. Ian puts on his jacket, gives her a kiss, then turns to walk way.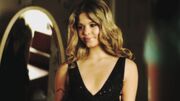 The Liars lunch with Ali's mother Jessica, as per her request. There, she presents the girls with presents, four high-fashion dress. However, the girls are uneasy, as they remember Alison having picked them out and trying them on one afternoon. She said to Emily "Don't I look hot, Em?" as she was aware of Emily's crush on her. Emily says the feathers on the dress look really pretty. Hanna spots another dress, and says "This stretch size is to die! Can I try it on?" to which Ali rudely replies "There's not that much stretch", making fun of Hanna's weight. She then compares the dresses to her friends: Unique and belonging to her.
After Toby shares news of the hockey stick discovery with Spencer, she flashes back to when Alison had asked Spencer to teach her how to play field hockey. Spencer had been happy to lend Ali her old hockey stick with the Rosewood Field Hockey team colors on it - blue and white. Aria had questioned Ali's motives at the time, knowing that Alison wasn't the biggest field hockey fan. She guessed that it was about a guy, which was probably correct. Spencer said that guys don't play field hockey, not putting it together that Alison was either interested in or already dating Ian, the field hockey coach.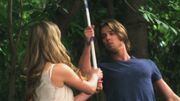 Spencer then calls Aria to fill her in on the details of the find. Spencer immediately suspects Jason of having hurt Alison and trying to cover it up by burying the broken hockey stick and later trying to build a fence along property line, where the evidence is buried. Making Jason look even more incriminating is Aria's flashback of Jason the day that Spencer had been showing Ali how to hold the hockey stick. He had come looking for her on their mother's orders, unhappy to have to waste time looking for Ali. When he caught sight of the stick, he grabbed it from her and then threatened to hit her and Spencer let out a warning cry. When Jason turned around, Ali tried to whack her brother with the stick, but Jason moved quickly, and mockingly warned Ali that she wouldn't get a second chance.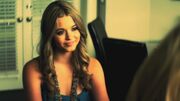 Spencer flashes back to the summer before Alison had disappeared. The girls had been standing in Hanna's kitchen, and Hanna's grandmother Regina had been over as well. She was talking about her two sons, Tom and Patrick, and Alison suddenly asked what it would take to cut one of them from her will. Regina was taken aback by the question, but Alison had pressed on, asking hypothetically, if one of her sons sold an expensive family heirloom to buy drugs, would that warrant dismissal from the family tree? Regina ultimately said yes. In retrospect, Spencer believes Alison to have been referring to her own family situation and thinks that Alison had gone to Georgia in order to try and get her grandmother to cut Jason out of the will.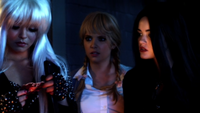 After the Liars find a note inside Alison's baby doll (Next time it'll be your face, not this pumpkin), they all have a flashback to Halloween 2008, a scene not included in "The First Secret." Alison and the Liars were taking a shortcut to her house and when they arrived, they found some smashed jack-o-lanterns on the porch and a note left under a knife. Aria reached out to take the knife, but Ali suddenly grabbed it. When the girls asked if the note says anything about  who caused the destruction, Ali said it was Jason's "beer buddies," then, scared, she invited the girls to sleep over.  They made excuses but Alison apologized about what happened, saying she had gone too far and the girls likely stayed over. Back in real time, the Liars discover that the note was signed by "A," meaning Alison was a victim of "A" as well.                                                                                                                                                        
Spencer goes at Hanna's to apologize about working with Caleb Rivers behind her back. Hanna forgives her and says that she had actually seen Ali with dark hair once before. She flashes back to a day when she was at a hair salon and heard a familiar voice talking to the stylist. The man referred to the dark-haired girl as Vivian Darkbloom. After he left, Hanna realized that "Vivian" was actually Alison. Alison asked her what she was doing there, and she said that her mom made her an appointment. Hanna told Alison she liked her new hair. Alison told her that she was pretending to be someone else because she was getting bored of always being herself and suggested Hanna should try it sometime too. Alison asked Hanna to keep it a secret, then she took off her wig, smiling. When Spencer Google's the name Vivian Darkbloom, she and Hanna find out that the name was an alter-ego of Vladimir Nobokov, the man who wrote "Lolita," which apparently Hanna had seen Alison read.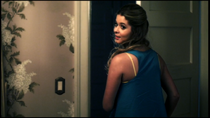 When Spencer tries to understand what is it that links Jason to her family, she flashes back to a night when Alison and Spencer were in Spencer's bedroom. Alison was reading a magazine and Spencer studying for a test. They heard Spencer's parents arguing downstairs and Alison asked what it was all about. Spencer told her that her father saw Melissa and Jason making out the other night and he's upset because of that. Alison wanted to open the door to hear what going on exactly and then said that Melissa and Jason would be "a match frowned upon by the gods." Spencer didn't catch her drift until over a year later.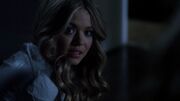 Spencer wakes up in the middle of the night in her living room to find Alison rummaging through the bag Jason gave her. Alison asks Spencer not to scream, claiming she only needs something from the bag. Alison asks Spencer if she is mad at her for never telling her about Jason being her brother too. Alison says that by sharing a brother, it practically makes them sisters and that Spencer deserves a more decent sister. If she had told Spencer the truth about Jason, it would have changed everything, and Alison didn't want that. Alison sees a bottle of pain killers on the living room table, and asks to take a couple "for the road."
Spencer informs Alison that Aria met with Duncan and he told her that he flew Alison back from Hilton Head the day she disappeared. Alison says Duncan "talks too much," but states she is glad that the girls haven't given up. She also says that it is now helpful the girls have the bag. She gives her a hint by telling her to look at the big picture instead of scrutinizing the individual pieces. Spencer asks what is in the bag that is so important, but Ali says she can't say. She states she misses Spencer and that everything the girls are dealing with is "some seriously messed up stuff." Ali informs Spencer, "here's the good news, you're getting warmer."Suddenly, Spencer and Alison hear a noise coming from upstairs, so Spencer stuffs the bag underneath the couch and falls back asleep.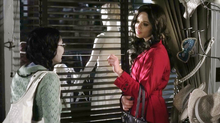 Mona tells Spencer, that when she was in a clothing store, she saw Alison (who was dressed as Vivian) and that she was spying on someone. Mona, who was then a hopeless nerd, begs Ali to tell her what she is doing. Alison finally tells her she is spying on someone, and Alison asks her what it is going to take for Mona to leave and forget what happened, and Mona responds "to be popular". Alison gives Mona a phone number, written on a torn post card for the "Lost Woods Resort." However, after Mona reveals herself to Spencer as a member of the "A" Team, this flashback was most likely made up by Mona to trick Spencer.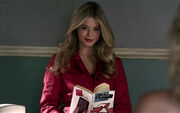 Hanna visits Mona in Radley Sanitarium thinking that her visits are helping. Mona turns and smiles, and Hanna thinks she's smiling at her, but she realizes Mona is actually smiling at the chair behind her. Alison is seen sitting there in a red coat, with her natural blonde haircolor, reading "Lolita." Mona and the audience can see her, but Hanna can't.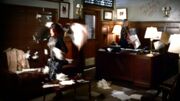 Aria finds an earring in her locker, a "gift" from "A," and she has a flashback of a night when she and Alison snuck into her father's office to find out if he was still cheating with Meredith. Alison finds one earring in the couch cushions and Aria freaks out. Upset and angry, she lets Alison talk her into trashing the office and letting him believe Meredith did it. Before Alison "finds" the earring, you can see it sparkling in her hand, meaning she had actually planted the earring there. Meredith also states the earring is not hers, further proving Alison planted it.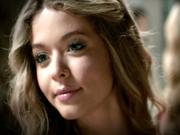 Spencer finds Alison's beloved anklet in an antique shop, reminding her of a night Alison had come over for a sleepover. Spencer notices Ali's charm anklet and Ali says it was from a friend, not a boyfriend, and that Spencer doesn't know "her." Ali had come over to watch movies with Spencer, but then ditches her to go to a party in order to get the girls fake IDs so they can get into frat parties and have a great summer. Spencer is upset, but as usual Ali gets her way. Her friend is waiting to pick her up downstairs, and we can assume that this friend was CeCe Drake, Jason's girlfriend. She and Ali apparently spent an "intense summer" together.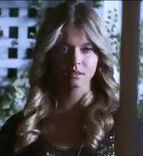 Hanna has a flashback of a night Mona came over and they played Ouija. When Mona asks the Ouija board if Alison is still alive. It spells ALIVE and lightning flashes outside. Hanna spots Alison through the glass door, staring at her with dead eyes. Hanna thinks this is proof that Alison is still alive, so she calls the DiLaurentis' to tell them. 3 days later, Alison's body was found and Mr. DiLaurentis was furious at Hanna for giving his family hope and never forgave her.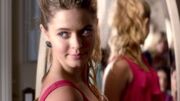 CeCe is telling Spencer about how Paige and Alison had a rivalry, also telling Spencer that Alison's nickname for Paige was "Pigskin." This reminds Spencer of a time when Alison had a huge mark on her back and said that when she was playing soccer, she fell down and Pigskin kicked her. Spencer, Aria, and Hanna are confused, and ask who Pigskin is, and Alison just tells them she is a "freak," and that she is "psychotic."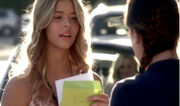 In the second flashback, Alison and CeCe are in a car, and Alison tells CeCe about how she wrote Paige a fake love letter from Emily (using Emily's stationary). In the letter, Ali wrote to Paige to meet her and hide her response letter underneath a sign outside a shop in town. Ali sees Paige and threatens to show the letter Paige wrote to Emily to her father, who is a deacon at the church. Paige yells at her to give it back, but Alison yells back, "I own you now!" Alison walks away, looking frightened, and yells at CeCe to drive.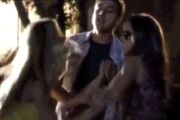 Garrett confronts Spencer, and tells her something important about the night Alison went missing. While Ian and Melissa were still in Alison's room, Garrett took Jenna outside behind Ali's house. While they were walking, Alison confronted them, and Alison and Jenna had a cat fight. Jenna pushed Alison, and Alison pushed Jenna, knocking her down. Jenna grabbed a field hockey stick from the ground and attempted to swing, but Garrett took the stick in his own hands. Garrett pretended to kill Alison with Spencer's old hockey stick, but he hit the tree instead. He looked down at Alison, who put her hand to her lips and mouthed "shh" to Garrett.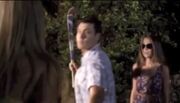 Jenna, blind at the time, asked if Alison was dead, and Garrett responded "I took care of it". Back to the present, Garrett tells Spencer that when he went back to see if Ali was okay, he saw her talking to Aria's father. Alison had threatened Byron, most likely talking about his affair with Meredith. Byron told her that she said "grown-up things, yet you're still a child." Alison laughed, and said, "You know what I'm capable of". Garrett inadvertently made a noise, and Alison and Byron looked, but Garrett ran off. It is not clear if Alison or Byron had realized that it was Garrett. Later in the episode, Alison's body bag is found in the ice cooler at the train party, after Noel and Toby accidentally knock it down while in a fight. Another flashback is shown at the end of the episode. It shows Alison's backyard at night. It shows construction for possibly a gazebo, and moments later a hand emerges from the ground, wearing a purple string bracelet. This implies Ali really was buried alive.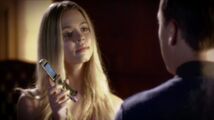 The liars find out that Harold Crane, the creepy manager of the Lost Woods Resort, is now a janitor at the school. They witness Mona and him talking, and they sneak into his office. They find Ali's diary which has an entry about Byron. The scene shows a flashback of Alison in his office. Alison threatens him about Meredith and says that the same amount works for her, meaning she was blackmailing him for money. She calls Ella right then and there, but Byron snatches the phone and squeezes her wrist tightly.Byron tells her that he can't give her the money again, and that Ella will notice it's missing. Ali says he will have time to figure it out, and that she's leaving to her grandma's this Labor Day weekend (the same weekend she went missing). She tells him that she will see him after the weekend. She tells him in a fake sweet voice "Have a nice week, Mr. Montgomery!" and he looks after her, worried.
Aria is sick with the flu and groggily wakes up and sees a blonde going through her closet and pulling out Ali's old doll that has the diary entries of Byron in them. She asks them what they are doing and the girl turns around, revealing to be Alison herself. She says "Taking back whats mine" and sits on Aria's bed. Aria asks her if what she wrote in her diary is true. Alison tells her she will tell her, but she might not believe her. Ali tells her it is true, and that she was desperate for the money. Aria is shocked, and asks how could she do that. Ali says she never called her mom, and she just wanted the money. Aria also asks if Byron murdered her, and Ali smiles replying "Do i look dead to you?" Ali decides to leave the doll and notes, and right before she leaves she says "You know why i picked you right?". Aria shakes her head, and Ali mysteriously winks and leaves. Aria runs and opens the door...but no one is there.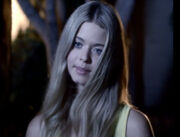 Byron tells Aria, Hanna, and Emily that he did not kill Alison, and what happened the night he and Ali talked. Byron tells her he doesn't have the money, and Ali says "Then we both know how this is gonna end", meaning she will call Ella and tell her the truth. Byron says she wouldn't do that to Aria, and that she isn't that bad of a person. Ali smiles and says "Then you clearly don't know me that well". Byron tells her again he is not going to give the money to her and starts to walk away when he sees Melissa coming out of the barn a few feet behind Ali, and she says to someone on a phone "Do I need to call 911 to get your attention?" but Ali doesn't notice. She furiously yells "You've made your bed, Mr. Montgomery!"
Out of the Frying Pan, Into the Inferno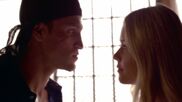 Emily finds an old Biology notebook with notes between Alison and a mysterious girl talking about a "beach hottie". Spencer is reading and a flashback is shown. Ali is visiting Toby at juvie, and shows him the notes A sent her. She tells him to stop, and he says he didn't send them. Ali tells him her friends were part of it too, and why not punish them. Toby says he wishes who he knew it was, so he could offer his services. Ali says mockingly "I bet you wish you'd kissed me when you had the chance". Her time's up. Also, Emily finds an old picture of Ali and CeCe in Cape May. CeCe reveals she was the girl Ali was writing to, but Ali never revealed the guy's identity. She flashes back to when she was there partying and she saw Ali lurking near by. Ali then tells her she's two weeks late and thinks she is pregnant. She says if the guy finds out, he will kill her.
Dead To Me Emily visits Dr.Anne Sullivan for therapy to help her heal from what happened with Nate. She has Emily try hypno-therapy. Emily suddenly remembers something about the night Ali went missing: Emily sees herself angrily walking towards Alison's backyard holding a shovel. Alison is across from her, and turns around. Alison looks frightened and says "We shouldn't be here. This is bad, we shouldn't be doing this". Emily walks over to Alison and lifts the shovel. Alison screams and falls to the ground. Ignoring her cries, Emily hits her with the shovel. Emily later realizes she got this night and the night Ali's grave was dug up mixed up. Emily remembers that SHE was the one saying what Alison was saying, and A was in her grave trying to get her body out. Emily screams, and A covers her mouth, right before seeing a blonde female in a red coat.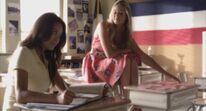 Also, A gives Emily a post-card of the Eifel Tower. Emily has a flashback of when she and Alison where alone in class. Emily told Alison she was supposed to be studying, but Alison instead was spreading out post-cards of various places in France. "You and me in sweet Pari?" Ali had said, impying they go to Paris together. Ali suggests they go to the south of France, dancing in sun-flower fields, lounging around in their bikini's in the French Riviera. Emily asks how long they would be going away for. Alison looks up, smiles and says, "How about forever?" This trip never actually happened, mostly due to Alison's disappearance.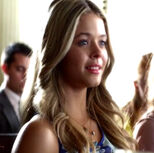 Spencer figures out that she is staying in the same room Mona stayed in while she was in Radley. On the dresser, someone engraved "Will The Circle Be Unbroken?" signed by A, and Spencer has a flashback of when Ali and her were in church. Everyone was singing the Christian hymn "Will The Circle Be Unbroken?" and nerdy Mona was there too, and she was singing the song loudly while moving her head. Alison saw her and began laughing. After church, Spencer and Ali leave while Ali makes mean remarks of Mona to Spencer. Spencer sees Mona standing alone at the top of stairs to the church, and feels a bit of remorse. Ali takes out her diary and Spencer asks if she could see it. Ali says yes, but mockingly pulls it away, and says Spencer could read it when she's dead. Spencer says "Ew, don't be so gruesome!" to which Ali replies she's just being mysterious. Spencer says she doesn't want to read her "stupid" diary, but Ali says she does, and that she's writing them for her. Spencer asks "Them?" and Ali says, "They're beyond scandalous. Your gonna need them if your gonna carry on after I'm gone." Spencer asks, "Carry on with what?" Ali smiles but doesn't say anything, and she drags Spencer to get some muffins.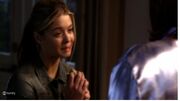 Veronica is telling Spencer that the last time she saw someone as depressed as her, it was Alison. She has a flashback of the middle of the night when Ali was having a sleepover at Spencer's house. Veronica went to get a mid-night snack when an upset Alison appears through the door. Veronica is startled and says she thought Alison was asleep in Spencer's room. Alison told her she had to go out and Veronica asks "For what?" She notices Alison has a bloody lip and asks what happened. Alison lies and says she must of scraped it on a tree branch when she was trying to get to her house. Veronica asks "Why did you have to go to your house at 3 in the morning?" to which Alison replies she can't talk about it. Veronica gets ice for Alisons mouth. Veronica asks if she had a fight with someone, and Alison tells her that if she tells her parents it's "only going to make it worse". Alison begins to cry and hugs Veronica. Alison looks like she's about to tell Veronica the truth, when she quickly returns to her own self and tells Veronica "I'm just being weird. Overly sensitive. I'm fine". Then Alison returns upstairs, with Veronica looking after her worried.
Spencer has an encounter with Alison while she is staying in Radley Sanitarium. Upon following a map left by Mona, Spencer comes across a very calm Alison listening to the song "I'm Your Puppet" on a record player. The both of them briefly dance together as Alison remembers her first boy-girl dance in the sixth grade. However, Spencer clarifies and states that she never knew her in the sixth grade. Alison then replies by saying that the girls didn't know her when they knew her. After asking how she got a scar on her lip, Alison responds by saying that "girls fight dirtier than boys", implying that it was a female who attacked her a few weeks before being buried alive. Alison evantually leads Spencer to a toy rocking horse where she finds Mona's fake staff I.D. (labeled Ali Dee) and CeCe's authorized pass for visitation. Much like the previous visits, it is left unclear to the audience whether Alison was physically there or not, as Spencer hadn't slept in three days. When Spencer turns around, Wren is standing in Alison's place.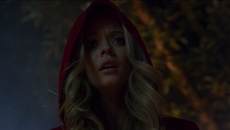 Red Coat lands in the woods in a plane, with Spencer spying on her. She recognises her and gasps, "Ali?" The other Liars show up and corner Mona right before she was about the leave the lodge. Someone starts a fire in the woods and locks the Liars and Mona inside as the lodge starts on fire. They urgently try to find a way out, and Mona reveals she does not know who Red Coat is. Someone drags the girls out of the house and Hanna wakes up on the ground outside the lodge...face-to-face with Alison in the red coat. Mona says she saw Alison and the girls think she is seeing things, but Hanna and Spencer reveal they both saw her too. The girls drive and Mona says she was at the cemetery the night Alison's body was stolen. She says red coat was wearing a mask, and she looked just like Alison.  
The final scene shows a flashback of a hand wearing "The Jenna Thing" bracelet coming out of the ground; this time revealing that someone had actually pulled the person out.
Appearances (42/71)
Season 1(15)
Season 2(14)
Season 3(13)
Posthumous Video Footage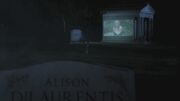 Before disappearing, Alison had met with Ian at "The Kissing Rock," where they had made a makeout-tape. In the footage shown to the girls by Agent Cooper in "Know Your Frenemies," Alison teases Ian, "I know you want to kiss me." Ian replies, "Come closer." A struggle appears to occur, and the camera falls to the ground, losing focus on the other two. Then, Alison's hand falls into view of the camera; her hand grabs onto some dirt and leaves, before going limp. She falls down and you can only see her hand... it's not moving. But a bit later, in The Devil You Know she grabs at the dirt then lets go of it and laugh, then thanks Ian for coming. Ian puts his jacket back on and walks away. The girls had originally taken this video as proof that Ian murdered Alison, but upon seeing the additional footage, courtesy of "A," they are left to wonder. In some video footage from the same night in "The Blond Leading the Blind," Ian claimed to Garrett and Jenna that he met Alison at "The Kissing Rock" in order to obtain the N.A.T. Club videos that she had taken. Unbeknownst to him, Alison had already stored the videos away and gave Emily the key.
Romantic Relationships
In "Surface Tension," Alison asks Spencer to teach her how to play field hockey, which Is the sport Ian is coaching.When Aria says that maybe Alison is interested in playing field hockey because of a guy who also plays, Spencer says that only girls play field hockey, not even realizing that Ian was the coach at the time.
In "Moments Later," Spencer finds a tree in the woods with the words "Ali + Ian" carved into it. It suddenly makes sense that the "older boy" Ali was seeing was Ian.
Viewers do not know much about their relationship beyond the few moments we see them flirting.
In addition Alison had a sexual relationship with someone only known as "Beach Hottie". Alison thought she was pregnant with his child due to being late on her period.
Relationships
The Girls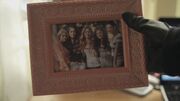 Alison was the ring-leader of her group of friends, which consists of Hanna, Aria, Spencer and Emily. Alison had hated Mona, who was dorky at the time and constantly made fun of by Ali. When Aria thought about being nice to her and waiting for her, Alison convinces her not to. Alison treats Hanna like her lackey, Emily is hinted to be more than a friend, and Spencer and Alison often clashed with one another. She also made fun of Lucas a lot and called him a hermaphrodite, or "Hermie," which led to Lucas smashing up her memorial. She as well did not like Jenna and refers to her as "Jenna the Jerk" and states she finds her creepy. Alison had ultimate power over her friends, getting them to do what she wanted despite their objections. No one ever stood up to her except Spencer. Though she was cruel and nasty to them, it is hinted multiple times she truly and deeply cared for the girls.
Aria Montgomery
-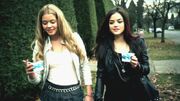 Alison has a more neutral relationship with Aria than the other three girls. She seems to have the loosest connection to Alison compared to the other three girls. They seem to get along and have a casual friendship.They don't get into many arguments, nor does Alison treat Aria like a lackey. However, Aria does follow Alison's suggestions most of the time. Alison mostly lets Aria do her own thing and does not often get involved in her personal life, except when she threatened her father about the affair, and would sometimes use it to get Aria to do what she wants. They are both naturally independent and obsessed with their own sophistication.
Emily Fields
-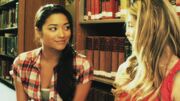 It is seen multiple times throughout the series that Emily was closest to Alison than rest of the group. In "
The Perfect Storm
," we learn Ali and Emily had a relationship that was more than a friendship. She wrote Ali a love note and loved her more than a friend. Alison was leading Emily on though and had no real feelings for her than friendship. However, in "
Monsters in the End
," she chose to give Emily the snow globe with the hidden key. Alison tells her to keep it safe because it's "a lot more valuable than it looks." This might mean that Alison trusts Emily more than the other girls. When Emily was on the brink of death In "
Over My Dead Body
," she hallucinates that she sees Alison. Alison tells her that she misses her the most and was her favorite, and that no one loved her as much as Emily did. She also questions if she really wants to be free of "
A
," and also questions whether she wants to stay in the position she is in or join her. Emily then asks if she knows who "A" is. Alison responds that of course she knows. After Emily asks her to tell her, she states she can't because "Two can only keep a secret if
one of them is dead
." Alison then gently kisses her, which makes Emily believe that she is alive. Out of the rest of the girls, Alison said that Emily is the only one who truly understands her and with whom she could completely be honest. (see: "
Emillison
")
Hanna Marin
-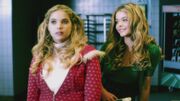 Alison bore Hanna the name "Hefty Hanna" mocking her weight, Despite being the sweetest of the bunch, Hanna was often cruelly mocked and teased by Alison. This is seen in "
Know Your Frenemies
" as well as in "
Never Letting Go
" and other episodes. In "Know Your Frenemies" we also find that Alison even convinces Hanna to throw up to lose weight. She also convinces Hanna not to eat in "
Pilot
" with the excuse she is being a friend. She is very mean to her during "
To Kill a Mocking Girl
" calls her a wannabe and other rude words leaving Hanna in tears. She doesn't stop until Aria tells her to. Alison tells Hanna that she didn't mean it and that she was freaked out about "The Jenna Thing." Alison also mentioned in her diary that she almost convinced 'Hefty Hanna' to shave her head. Out of the four girls Alison seems to be the meanest to Hanna because she knew Hanna had the potential to take Alison's place as the most popular girl at Rosewood high, only if Hanna lost weight and gained confidence. She usually leaves Emily and Hanna feeling bad about themselves. Hanna also has the most hallucinations about Ali such as in the hospital and with her therapist. This could be because she never had the guts to stand up to Alison's teasing and subconsciously feels upset about never doing so (although she once tried to get Ali to stop bullying Lucas, but ultimately backed down).
Spencer Hastings
-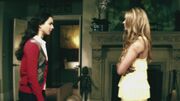 Her relationship with Spencer is very different. Spencer and her were always fighting, and trying to out-do each other. She usually leaves Spencer annoyed with her and Ali distressed because Spencer is the only one of the four girls who could ever stand up to Ali, which fact first comes apparent in "
Pilot
, when they have their argument in Spencer's house, the night of Ali's disappearance. There, Ali threatens to tell Melissa about Spencer's kissing Ian or else she will. Spencer yells at her that if she should so say one word to her, she'll tell everyone the truth about "
The Jenna Thing
." Also in "
If At First You Don't Succeed, Lie, Lie Again
" she is again seen pressuring Spencer to tell her sister about Ian. (This is hypocritical considering the fact that she was secretly dating Ian, and Alison probably did it in order to make Spencer look bad while getting Ian to herself.) Spencer tells Alison that she is sick of her games, and Alison is dead to her already. Alison appears distraught, then Alison leaves angrily, and Spencer follows her. Spencer is the most like Alison: smart, deterimined, sophisticated, and will do just about anything to be the best.
Other Friends
Jason DiLaurentis
-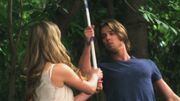 She did not have such a great relationship with her brother Jason, due to his drug addiction and their mutual disrespect of each other's boundaries. Both had no qualms going into each other's room, stealing and breaking each other's belongings. Some glimpses of that were seen in "
The Goodbye Look
," "
My Name Is Trouble
," and "
Surface Tension
." In one instance, Alison had fled one of her brother's house parties in tears, blaming her distress on Jason and his friends' invasiveness in her room, but left the particulars vague.

Duncan Albert - Alison had a some sort of secret friendship or relationship with Duncan before her death. Duncan saw a side of her she didn't show other people. It seemed that even though using a fake name, Alison was much more honest and real with him. It seemed like an indication of what a better person the adult Ali would have been like, but never got a chance to happen. Duncan met Ali/Vivian in a book store in Brookhaven. Vivian often spoke about her four friends to Duncan, which mean she trusted him to a certain extent. He reveals that he and Vivian met up at a place near Brookhaven quite often during the summer Alison disappeared. He also reveals that he knew Vivian's real name was Alison but was unaware of her death until Aria told him. During the friendship Duncan often took Alison up to his helicopter. He explains that he and Alison used to fly often and that she used to feel free, safe, and in control. He also mentions that he might have been in love with Alison.
CeCe Drake
-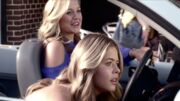 CeCe dated Jason, and sometimes hung out with Alison, but CeCe was very similar to Alison's attitude. CeCe taught Alison some of the wicked stuff she knew. And also Alison told CeCe some secrets about the girls. Cece and Alison had more of a big sister, little sister relationship.

Paige McCullers - On a date of Paige and Emily Fields, Cece reminds them of Paige's violent past with Ali. In a flash back at one the liar's sleepovers they are trading clothes and Aria points out the bruises on Ali's back she simply reply's " Oh Pigskin gave them to me" they asked who Pigskin is but Ali didn't answer. As Ali does with everyone she was going to tell everyone that she is a lesbian. Alison had an enmity of sorts against Paige McCullers, whom she nicknamed "Pigskin." Apparently, Alison once received a kick to the back in a sport from Paige after she annoyed her too much, but swore vengeance upon "Pigskin." Somehow aware of Paige's secret pining for Emily, Alison forged love letters in Emily's name and sent them to Paige, eventually leading to Alison intercepting one of Paige's own letters, which Ali used to blackmail Paige into becoming her "property." CeCe speculates Ali to have most likely been afraid of Paige.
Autopsy and Death
Alison seemingly died of suffocation, which is revealed in "The Jenna Thing" and mentioned once again in "For Whom the Bell Tolls." More information on her death is revealed in "Save the Date:" Alison had been hit from behind or was running away when she had been hit on the head. The wound had come from a curved, blunt object (which Spencer believes to be her old field hockey stick). However, the impact had not killed her immediately. The autopsy found her lungs to be filled with dirt, implying that she had been inhaling dirt in the last moments before her death. This basically means her assailant had struck her, either knocking her unconscious or otherwise paralyzing her defenses, and proceeded to bury her alive. We later come to find in "Over My Dead Body" that the "curved, blunt object" actually wasn't a field hockey stick, but a shovel. Alison was buried by the same object that damaged her head. In "It Happened 'That Night'," Alison's body is stolen from her grave. In "This Is A Dark Ride " Alison's body is found in the ice cooler at the Halloween Ghost Train Party, after Toby and Noel fight, knocking the Cooler down, showing a black leather bag. Also shown the same episode was a flashback of her hand coming out of the ground, revealing she may have escaped.  
Death/ Alive Status
It is revealed in "A Dangerous Game" that Alison is alive and is taking on the role of Red Coat. This is confirmed as both Hanna and Mona insist that Alison was the figure who rescued the liars from the fire at Thornhill Lodge. In addition to this, Spencer also catches a brief glimpse of Alison as Red Coat coming out of a plane and walking towards the lodge. However, Alison's current existence strongly conflicts with the events that took place in the Pilot episode; where Alison's funeral takes place after the St.Germain's discover her dead body in their backyard. Her existence also conflicts with the events that take place in during "That Night" - where Red Coat (Alison) appears to watch the A-Team exhume her own body. While Alison's death/alive status conflicts with each other it can be assumed that a twin is involved. This assumption can be backed up with numerous pieces of evidence:
While the assumption of a twin is merely just a theory amongst the fanbase, the above scenes could in fact be a form of foreshadowing hinting towards a larger storyline involving Courtney DiLaurentis. However, many fans have also speculated that these scenes are not considered to be important at all and are just a nod to the book series.
Notes
She, along with the other Liars, blinded Jenna Marshall in a prank intended for Toby Cavanaugh. However, in the "The First Secret," it's shown that Ali strongly disliked Jenna, (seemingly because Jenna refused to be intimidated by Ali, and refused to join her group of friends, saying that she'd prefer to pick her own friends), hinting that maybe Jenna really was Ali's intended target with the stink-bomb, and blinding her was no accident at all. Another possibility could be that Ali was forced by "A" to pull the prank, which would explain her insistence on going through with it, and her obvious shock at seeing Jenna inside, assuming that was not part of the deal.
Ali displays sociopathic qualities: controlling, paranoid, charming, seductive, dominant, incapable of remorse, and extremely intelligent. Though at times, Ali does seem to display real emotion.
She was kissed by Emily Fields, but later informed Emily that she likes boys and would only kiss her for practice for the real thing. In "Over My Dead Body," it is implied that Alison may have actually loved Emily, or else that is simply Emily's wishful thinking.
Spencer Hastings knew Alison was seeing an "older boy" the summer she disappeared. The girls did not know for sure that the mystery guy was Ian until seeing The Kissing Rock video in "Careful What U Wish 4."
Spencer Hastings was the only one of her friends who did stand up to Ali.
Her signature lipstick color is Jungle Red.
Alison seems to foreshadow her own death in "Please, Do Talk About Me When I'm Gone."
In "The First Secret" Ali tells a story about two twin girls which one killed the other and gets sent away, and that the other escaped yesterday (October 29, 2008). Later on, as the girls walk past a creepy house there is a car that states: "Radley Sanitarium" - a place which plays a major role in the books, and in Season 3 of the show.
A popular theory among fans is that Alison isn't dead and her twin, Courtney, died on September 1, 2009.
In the episode, "This Is A Dark Ride" Alison's body is discovered after it went missing in the episode "It Happened 'That Night'"
Another theory is that Alison is dead, but it is her twin sister, Courtney, who is the leader of the A team and the one Emily saw in the red coat digging up Alison's grave, "Dead To Me".
At the end of "This Is A Dark Ride" we see a flashback of a hand sticking out of the ground which proves Alison was buried alive and that she may have escaped the hole in her backyard.
She thought she was pregnant, but Mona revealed that it was a false alarm and she was not.
Besides A, Alison is the one who has the most secrets.
In "Dead to Me" Emily remembered something from "That Night". She saw red coat and it was thought to be Alison along with red coat's helper: Mona.
At the end of Season 3, it was revealed that Alison is alive.
Alison always appears in the season finales.
Trivia
Ironically, the name Alison means "truth" in Irish. It also means "noble" - everything Alison is not since she was a manipulative liar.
Sasha Pieterse, the actress playing Alison, could have played Hanna Marin, because she originally auditioned for the role of Hanna. Then the producers had her try out for Alison.
In Alison's bedroom you can see a picture of her, Jason, and a girl identical to her, and undet that French saying about twins (possibly hinting that she has a twin).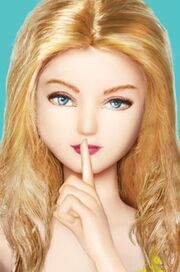 Book Comparisons
Main Article: Alison or Her twin
Alison disappeared three years prior to the first book. In the show, it was one year. And in the books, Courtney disappeared in the beginning of summer before going into 8th grade. In the show, it was labor day weekend and all the girls were soon to be sophomores.
In the show, Alison dressed as Vivian Darkbloom to stay under "A's" radar. In the books, she didn't receive texts or notes from "A."
In the books, Alison is actually alive and it is her twin sister Courtney who is dead. In the show, there is no mention of a twin as Oliver Goldstick pointed out that, "they will not be exploring that storyline."
In the books, Alison had fewer secrets.
In the books, Emily kissed Courtney in the treehouse in Courtney's backyard. In the TV show, Emily kisses her in the school library.
In the books, Jenna and Courtney planned "The Jenna Thing" together because they both wanted Toby to go, but in the show, Ali does it on her own, but with some slight help from Hanna, Aria, Spencer, and Emily.
In the books, Alison & Courtney were both creeped out by Ian, with Courtney only pretending to be into Ian to get him to kiss Spencer. In the TV show, Alison seems to have genuine feelings for Ian, and gets angry when she sees Spencer kissing him.
Alison never had a pregnancy scare in the books, but she had one in the summer before she disappeared on the TV show. Later on Mona revealed, based on Ali's diaries that such pregnancy was merely a false alarm.
Alison was also with a boy named Nick in Ali's Pretty Little Lies which so far has not been mentioned in the show.
In the books the liars were actually friends with Courtney and not Alison.
In the books real Courtney had been in Radley due to Alison's lies. In the TV show it has yet to mention Ali's twin Courtney.
Memorable Quotes
Alison: Friends share secrets. That's what keeps us close.
Lucas: It was just an accident.
Alison: Is that what the doctors told your mom and dad at the hospital?
Hanna [in hallucination]: Please, just tell me the truth.
Alison: It won't make any difference darling.
Alison: You think the truth is some big shiny disco ball of purity? Then go ahead and try it. Be honest. See what it gets you. Telling the truth to the wrong person at the wrong time is how I ended up where I am. Take it from me, you're always better off with a really good lie.
Alison: It's immortality, my darlings.
Alison [to Emily]: A kiss is a kiss. I like boys. Trust me, if I'm kissing you, it's because it's practice for the real thing.
Alison: Take it from me; you're always better off with a really good lie.
Alison [to the Liars]: When I hide something it stays hid, until I want it found. That's why your secrets are all safe with me.
Emily [about Alison]: Alison lied more than she breathed.
Alison: You think you know people, and then they surprise you.
Alison [to Jenna]: If you ever come back to Rosewood, I'll bury you.
Alison [about Mona]: If you ignore it, it will go away.
Alison [to Emily]: Shy on the streets, sexy in the sheets.
Alison [in Emily's hallucination]: Two can only keep a secret if one of them is dead.
Alison [to the Liars]: Wait for it...wait for it.
Alison [to Spencer in her dream]: We're practically sisters...
Alison [to Spencer]: This isn't Yahtzee sweetie, this is some seriously messed up stuff.
Alison [to Hanna in hallucination]: You know, I really should do something about A, that bitch is genuinely getting on my nerves.
Hanna [to Alison in hallucination]: What happened to you?
Alison: It's complicated Hanna, really complicated, worse than algebra.
Alison [to "Hefty" Hanna in flashback]: I understand. Poor Hanna. You don't have to feel this way. I can show you how to get rid of it.
Alison [about Prudence's boob job]: She had to do something to compensate for being named Prudence.
Alison [to Aria in Misery Loves Company]: No sweetie, I'm more real than I've ever been.
Alison [to Aria]: If I tell you the truth, you don't have to believe it.
Alison [to Spencer after church]:
What do you suppose Loser Mona was doing in there? Praying for bigger boobs?
Spencer: Why do you even bother going to church?

Alison:
I like to cover my bets.
Aria [to Alison]: Do you see A?
Alison: Everywhere I turn. So do you. You all do.
Alison [to Hanna]: Never look back Hanna. Something might be gaining on you.
Gallery